As an integrated club or high school on the platform, you've taken the first step in helping your athletes find success in each of their recruiting processes. When your athletes and staff are onboarded to the platform, they will be sent emails with information on how to activate their accounts and details about the features available to them on the platform. This article includes Measures of Success based on data we've collected and trends we've seen among athletes who have been successful in their recruiting process and committed at the end of their high school careers, as well as features available to you as a staff member to monitor and encourage your athlete's activity on the platform. 
The Importance of Athlete Onboarding
When an athlete's account is first created, their profile is immediately visible to college coaches, and for this reason, we recommend they fill out as much information as possible. It should take no longer than ~15 minutes to initially review the tabs on their Profile page! As each athlete progresses through their recruiting process, they should continue to update and edit their profile as needed. Once an athlete's core information is filled out, they should proceed to complete four challenges that will set them up for success on SportsRecruits: 
Additional information related to these challenges is included in the "Example Message to Send to Your Athletes to Help Get Started" that we recommend blast messaging to your athletes once they are imported to your roster. This example message is linked below, varied by branded platform.
The Student-Athlete Training Video is always available to your athletes, and the SportsRecruits Customer Success Team hosts monthly recruiting webinars and a SportsRecruits 101 Webinar (for all sports) each month to support your athletes. 
Check out our "Getting Started" section for additional staff resources for athlete onboarding. 
Measures of Success
Our most successful organizations are proactive in monitoring their athletes' activity on the platform and integrating SportsRecruits with their overall recruiting process. Below are the measures of success we've found after reviewing athletes' accounts who have ultimately committed to a school. Each one correlates to a specific action your athletes can take on the platform, that you can monitor as a staff member. 
1. Verified Athlete Profiles receive 2x more profile views from college coaches than athletes not verified. 
An athlete receives the Verified Athlete blue checkmark on your roster after they have logged in and uploaded a profile picture, filled out their position, and updated their grad year on their profile

2. Committed athletes on the platform favorite an average of 28 schools
Our platform's School Search Tool makes it easy for athletes to search and find schools based on different criteria important to them. 
We recommend a list of 20-30 Favorite Schools as the perfect starting point for any athletes just getting started in the recruiting process.
3. 80% of committed athletes contact at least 10 different schools
Increase Athlete Discoverability
College coaches have the ability to filter athletes by grad year and position (1st measure of success) as well as by athletes who are "Interested In Us," which is populated based on athletes who have either favorited their program or sent their program a message (2nd and 3rd measures of success). By filling out their profiles and actively using the features available to them, athletes increase their discoverability when a college coach is finding and viewing athletes through their college coach Discover Feed.
It is crucial for athletes to have video available for college coaches to view on their profile so they are able to evaluate that athlete. College coaches can also filter athletes by "Video" to only view athletes who have video visible on their profile because of how important is, along with the feedback we've heard from coaches about not wanting to view profiles without video. 
Student-Athletes With Video on the College Coach Discover Feed:
Student-Athletes Without Video on the College Coach Discover Feed: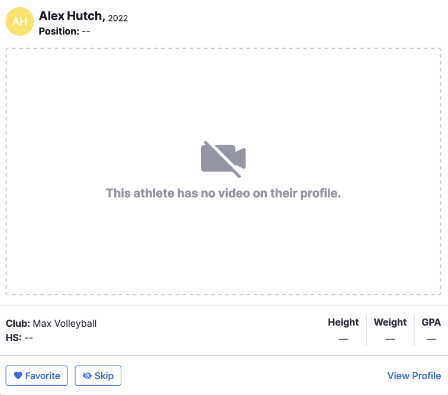 Your athletes can upload unlimited videos OR embed unlimited videos from other software, as well as use our highlight reel features and services to add reels to their profiles. 
The Highlight Reel Editor is a free in-platform tool to cut and crop uploaded clips together. These reels can be published and made visible on the athlete profile as soon as it is complete.
Once a video is created within the highlight reel editor, a Professional Highlight Reel can be submitted to our Post-Production team. A professional highlight reel includes up to 20 clips with isolation effects, title cards, and the music of your choice. 
If you have club or high school footage you want to share with your athletes through the platform, you can upload film to your program's Video Library on your staff account and assign it to specific athletes and/or teams.
How to Measure and Encourage Athlete Engagement
As a staff member on the platform, you can view your athlete's activity and be involved in their recruiting process directly through the platform. On your staff account, you have access to several features to assist them with each of the tasks to lead them toward success.
1. Get Verified: As noted above, getting verified is one of the easiest tasks to complete because it involves 3 simple steps or less if their information was imported! Reviewing your roster, you can easily see who has been verified by the blue checkmark on their profile picture. This is also a helpful tell to understand who has taken the first step to sign into their account. 
2. Favorite Schools: You can view an athlete's Favorite List by clicking on their name on your roster and selecting "Favorite Schools" on the left sidebar. If they have not built out their list or need assistance finding schools that fit their athletic and academic goals, you can also use the School Search Tool to find schools and share them with your athletes by Tagging Schools for your Student-Athletes.
3. Send Messages: Sending a message to a collegiate program is the most productive way for your athletes to get on a program's radar or recruiting list. If your athletes aren't sure how to start, we have this Sample Recruiting Email to a College Coach they can reference to send an introductory message.
Through the staff messaging system, you can also communicate directly with college coaches and share athlete's profile links by linking their profiles in your message.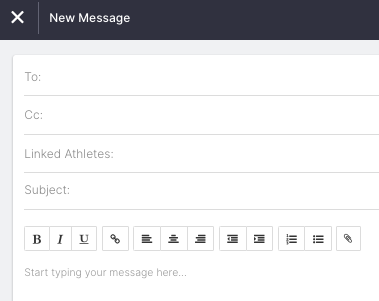 You can also view the activity happening on each of your athlete's accounts by navigating to the "Analytics" page at the top of your staff account.  More details about the activity can be viewed for all athletes on your Activity Feed or for individual athletes by viewing the athlete account and clicking "Activity". This table includes the numerical value for the following activities:

MSGS SENT: Messages sent to college programs
MSGS REC: Messages received from college programs
VIEWS: Views from college programs
FAVORITES: Schools the athlete has added to their Favorites List
TAGS:  Schools an integrated staff member on your account has tagged for the athlete
If you need to communicate with a specific athlete about their activity on the platform or want to reach out with information and reminders for all of your athletes, you can also communicate internally with your organization using the Blast Messaging feature that was built for quick communication through the platform. Any messages sent to your athletes through the platform will also be sent to the personal email address on the account, which includes a link for them to easily log in and make changes or review their accounts. 
After taking actionable steps to encourage your athletes' engagement with the platform, if your athletes would benefit from additional email reminders, talk to your Customer Success Manager or Account Manager about automated targeted emails we can send on your behalf following your onboarding. 
We Are Here To Help!
For additional information about the features available on your staff account, watch our Staff Training Video or contact your Customer Success Manager at teams@sportsrecruits.com. For any player or family account issues, our Customer Success Team can be reached at help@sportsrecruits.com.