We have an in-house production team that specializes in building highlight reels and can create professionally edited highlight reels for your student-athletes! College recruiting videos help athletes stand out to college coaches and are an effective way to compile an athlete's skills and memorable moments as well as share his/her information with college coaches.

Through your club or high school's membership with SportsRecruits, IWLCARecruits, or IMLCARecruits, all of your student-athletes have one free Professional Highlight Reel Credit available to them to redeem each year. Below are some frequently asked questions about how student-athletes can take advantage of this credit and create highlight reels with SportsRecruits.
Where can my athletes redeem their professional highlight reel credit?
Each of the steps to redeem a highlight reel credit can be completed within the video tab on your athlete's account.
1) The first step is to compile the clips they'd like to use and trim them as needed using the "Highlight Reel Editor" on the Highlight Reel Editor tab.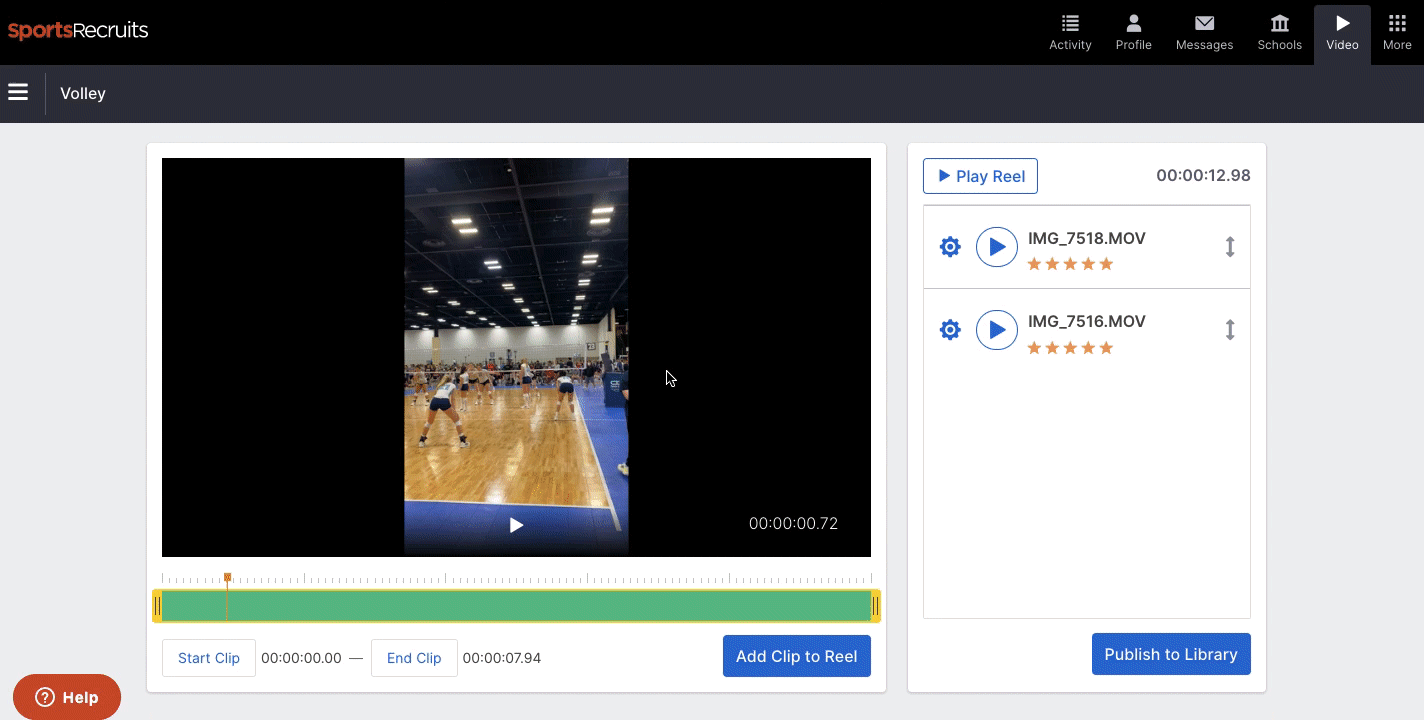 Add your clips to the reel in the order that you'd like them to appear.

Add a description to each clip detailing what the clip highlights & what jersey number the student-athlete is wearing.

Refrain from adding more than 20 clips to your reel.

Publish your reel.
For step-by-step instructions on how to build a highlight reel using the built-in editor, refer to the help below.
How to Use the Highlight Reel Editor.
2) Once the clips are selected and the video has been published (by clicking "Publish to Library"), your athletes can submit the highlight reel form on the Professional Reel tab. Your athletes can skip the "Purchase Reel" button and scroll down to the Reel Form.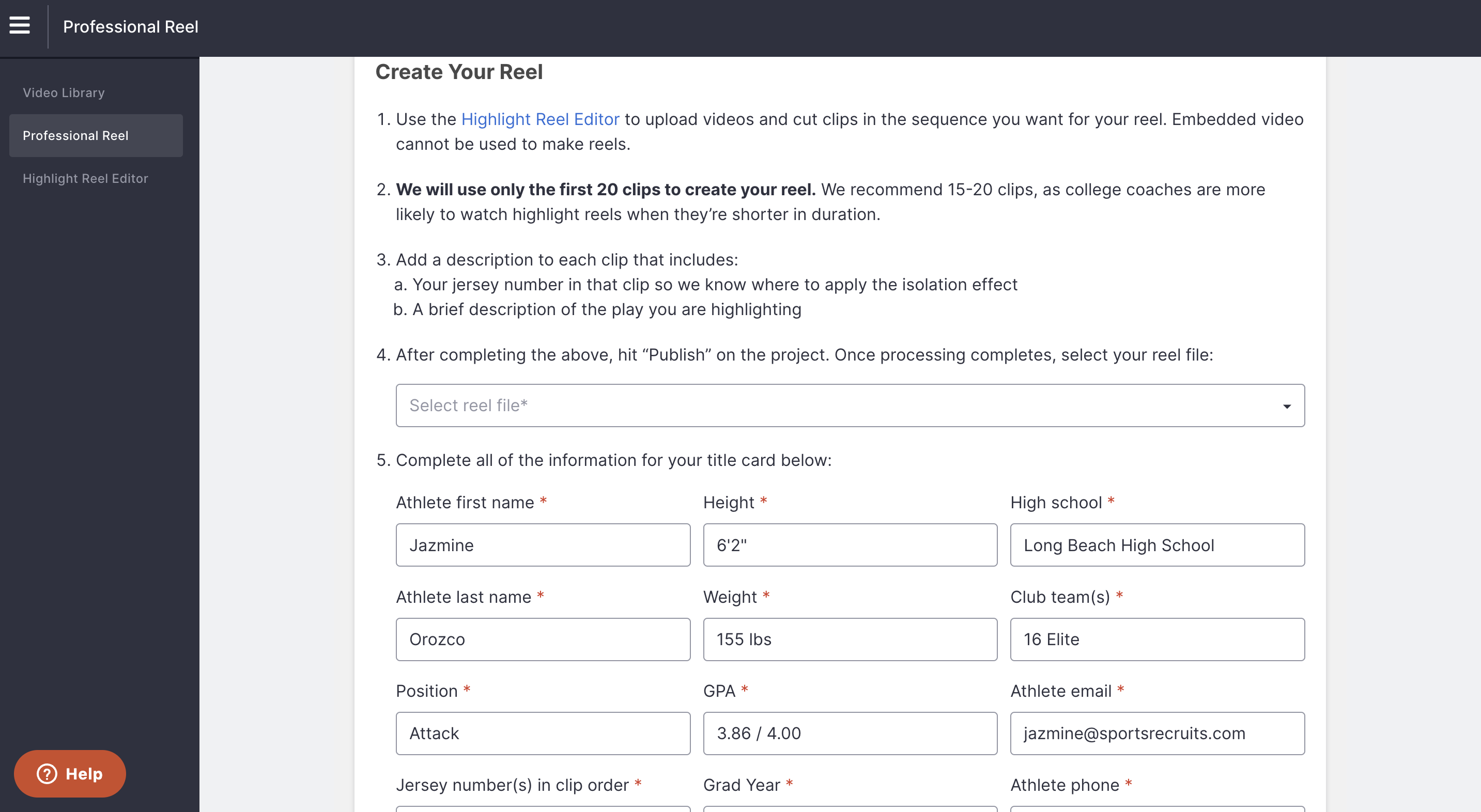 Once the information is filled out completely, they can click the "Submit Reel" button at the bottom of the page. Our post production team will upload an initial draft of their reel within 10 business days of them successfully submitting their form. Please keep in mind that business days do not include holidays or weekends. Once the video is reviewed, edits can be requested and the video will be finalized and added to their Video Library to be made visible and shared.
Where does your team get the video that they will use for my athletes' highlight reels?
Athletes are able to use any type of video to build their highlight reel, whether that video comes directly from their IWLCA/IMLCA/SportsRecruits profiles, Hudl, Youtube, their desktop, etc. Our Post Production team will be in constant communication with your athletes and families once a Reel Form is submitted so that your families know exactly how to share the necessary video with our team. Note: Embedded videos from Hudl or Youtube, etc., are not able to be clipped using the highlight reel editor. If your athlete would like clips from those videos included in their professional highlight reel, they should email editor@sportsrecruits.com.
Who selects the clips used in my athletes' highlight reels?
We believe that athletes should select the clips that they would like to use in their highlight reels. They understand themselves as athletes and will be able to identify where their strongest plays and skills are showcased in any given video. This is also a great opportunity for film review, a practice leaned on heavily by college athletes and coaches. Athletes can review the importance of selecting their own highlight reel clips here.
If your athletes are struggling to identify the best clips to include in their reels, you and your staff know them much better than we do! We recommend that any athletes having difficulty should build their own reel using our built-in highlight reel editor first (more about this feature available to athletes here). From there, they can show you their reel (or, as Club Staff you can Login as Athlete, learn how here) and you can suggest the clips that you think are strong and those that should be swapped out. Athletes can then share with us the original video files for each clip you endorse. Or, if athletes are just looking for a final, professional touch to their built-in reel, they can list on their Reel Form a Clip Source "All clips in the built-in editor project titled 'name of the reel.'"
How many clips can be used in an athlete's highlight reel?
We cap an athlete's reel at 20 clips because it usually results in a 3-4 minute highlight reel. College coaches are extremely busy, and we've learned that they spend an average 3:15 minutes watching a single video. Highlight reels should not exceed 4 minutes, and 20 clips give athletes plenty of room to showcase their full skillset in under 4 minutes!
How long will it take SportsRecruits to build an athlete's highlight reel?
Our post production team will upload your initial draft within 10 business days of you successfully submitting your form. Please keep in mind that business days do not include holidays or weekends.
Why SportsRecruits?
SportsRecruits provides organizations with complete access to all of their student-athletes' college recruiting processes. Staff are able to oversee exactly what college coaches are emailing their student-athletes, or taking the time to learn more about them by visiting their recruiting profile or watching game footage.
Is your organization looking to learn more about SportsRecruits? Click this link for more information!