Once either you or your SportsRecruits CSM has imported your roster, the new student-athletes added will automatically enter our onboarding email campaign. This onboarding email campaign contains a series of emails to grant your student-athletes access to their accounts and help them get started. Occasionally there is the chance one of your student-athletes might come to you to troubleshoot the fact that they have not received their initial welcome email. Below are a few reasons for this and how we can quickly fix it!
1. Sometimes the initial welcome email might be categorized as spam, so first and foremost you can tell your student-athlete to check their spam and junk folders in their email. From here, make sure they are adding our email address to their contacts OR marking sportsrecruits.com as "Not Spam." Here is a quick article that shows how to do that on many prominent email servers: How to Stop Legitimate Emails From Getting Marked as Spam
2. There's the possibility of a typo in the initial email address provided. The best way to get that athlete into their profile is using what we call an 'OnBoarding Link.' In order to find each of your student-athletes' OnBoarding Links, you can Exporting Your Student-Athlete Data.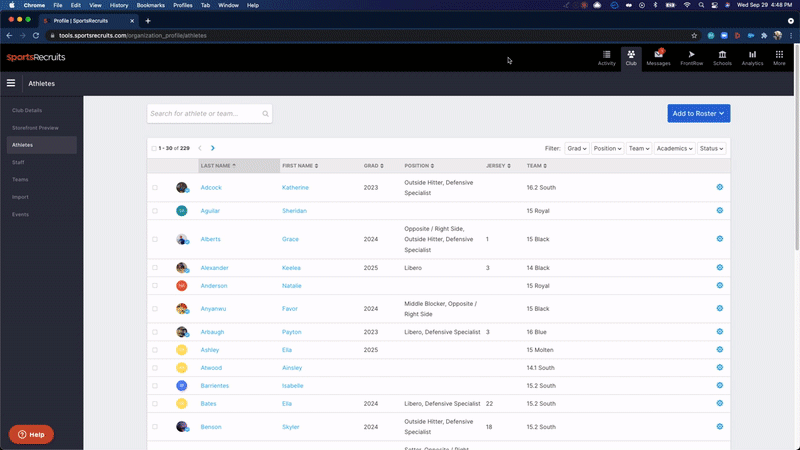 In the last column of this document, you'll find each student-athletes' respective OnBoarding Link. Either distribute the link to any student-athlete who reaches out to you about not being able to access their account, or you can tell that student-athlete to reach out to help@sportsrecruits.com and our Help team here can make sure they are able to access their account!
3. If you send a message to any athletes who cannot locate their welcome email, or to all of your student-athletes by typing in "All Athletes" in the 'To' Field in the SR messaging system. This will automatically send any emails attached to your student-athletes' accounts an email notification, even if they have not logged in yet.