Welcome to SportsRecruits, we're excited to have you on the team! As an Administrator or a Coach at your organization, you've likely already connected with our Customer Success Team; however, if you or your staff have specific questions you can reach us at teams@sportsrecruits.com. For any athletes or families of yours that have questions, they can get in touch with us via help@sportsrecruits.com.
This article is a walkthrough of your first steps, as well as suggestions for best practices in order to make sure that your student-athletes understand the SportsRecruits platform and can best utilize it to tackle their recruiting processes.
1. Activate Your Account
As a coach or admin on your organization's account, you would have received a Welcome Email in order to access your account and set a password. If you don't see that email in your inbox, double check spam or junk, then make sure that SportsRecruits emails are not marked as spam. Still no welcome email? Ping us at teams@sportsrecruits.com, letting us know your name and the club or high school organization you're with, and our team can help you out!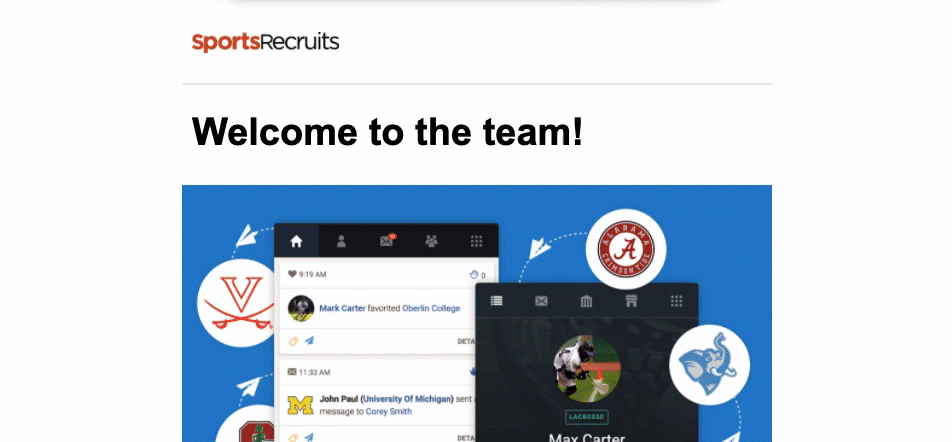 2. Understand How Your Staff Account Works
By watching the Staff Training Video below, in just twelve minutes, you can know the complete ins and outs of your administrative SportsRecruits account. This video, along with the articles in this Help Center, is a great resource to pass along to the rest of your staff also.
3. Set Expectations for your Student-Athletes in order to put them to Work on their Recruiting Process on SportsRecruits
The most successful organizations on SportsRecruits start off their lifetime by providing their student-athletes with basic guidelines for what they should be focusing on inside of the platform. As soon as your rosters are set up on SportsRecruits, your athletes will receive a welcome email in order to access their accounts. Through these onboarding emails, we will provide them with resources on how to operate the features of SportsRecruits; however, we find that student-athletes are far more likely to take action within the platform when those expectations are emphasized by you and your staff.
Lucky for you, we have a great Getting Started with SportsRecruits template that you can copy and paste directly into your SportsRecruits Messaging System then Blast Message Your Student-Athletes with those expectations!
________________________________________________________________________________________________________
Getting Started with SportsRecruits (For Student-Athletes)
Athletes --
SportsRecruits is a useful tool to use as you're tackling your college recruiting process. Once you have activated your account, you are ALL required to watch the following video: SportsRecruits Student-Athlete Training. This Training Video will walk you through all the features of your new profile.)
After you've gone through that quick video, I've also outlined some action items below to help you get started.
Challenge 1: Make sure your profile is Verified
Add your position(s)

Update your graduation year, if it is not already in there

Then, fill-in all of your basic athletic background data, and add your GPA, last year's academic transcript etc. - This SportsRecruits profile should be thought of as an

academic AND athletic RESUME
Challenge 2: Get Video on your profile - Now more than EVER, College Coaches are relying on video to assess you as an athlete
Here's how to

Upload any videos you have to your profile

. Or if you have video already up on other video sites, you can also

Embed Video to your Profile

Once you have film in your video library, you have full access to the

In-Platform Highlight Reel Editor

, which you can use to clip that film into full reels, or specific skills videos

As members of SportsRecruits through our Organization, each of you has

one FREE professional Highlight Reel credit per year.

This means that the SportsRecruits team will build a Highlight Reel for you based upon clips of your choosing. I highly recommend taking advantage of this! The links below will show you how to redeem this credit:
Challenge 3: Research schools that you might want to consider playing for at the next level. I want you to Favorite schools that are of interest to you, before moving on to "Challenge 4," I want you to have 20 schools on your Favorites List
Challenge 4: Introduce yourself to College Coaches
Start using the messaging system

to express interest in programs on your favorites list -

Every message you send through SportsRecruits will include a link to your profile (that you've already filled out!), which will give that coach direct access to this 'online resume'

You'll then be able to tell exactly

which college coaches have viewed your profile

with SportsRecruits complete transparency
If you have any questions, from forgetting your password to how to add something on your profile, you can email help@sportsrecruits.com or visit the SportsRecruits Help Center for more helpful tips.
Let's get it going,
Coach