Welcome to SportsRecruits, we're excited to have you on the team! As an Administrator or a Coach at your organization, you've likely already connected with our Customer Success Team; however, if you or your staff have specific questions you can reach us at teams@sportsrecruits.com. For any athletes or families of yours that have questions, they can get in touch with us via help@sportsrecruits.com.
This article is a walkthrough of your first steps, as well as suggestions for best practices in order to make sure that your student-athletes understand the SportsRecruits platform and can best utilize it to tackle their recruiting processes.
1. Activate Your Account
As a coach or admin on your organization's account, you would have received a Welcome Email in order to access your account and set a password. If you don't see that email in your inbox, double check spam or junk, then make sure that SportsRecruits emails are not marked as spam. Still no welcome email? Ping us at teams@sportsrecruits.com, letting us know your name and the club or high school organization you're with, and our team can help you out!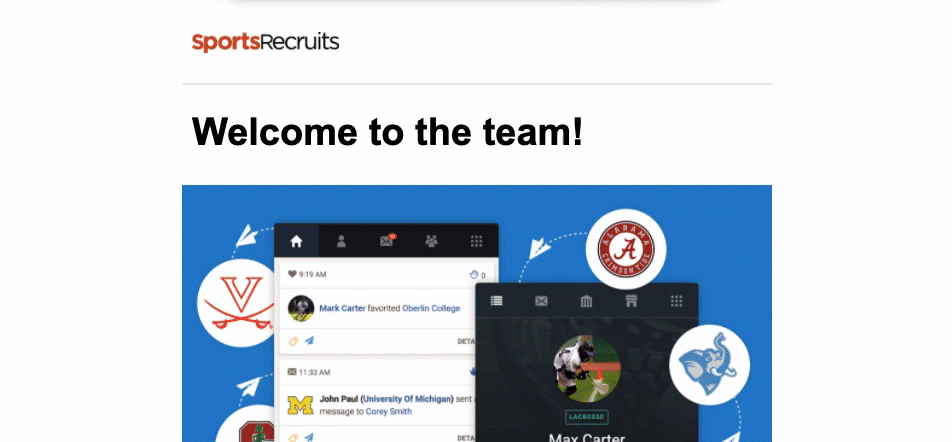 2. Understand How Your Staff Account Works
By watching the Staff Training Video below, in just twelve minutes, you can know the complete ins and outs of your administrative SportsRecruits account. This video, along with the articles in this Help Center, is a great resource to pass along to the rest of your staff also.
3. Set Expectations for Your Student-Athletes and Get Them Started on Their Recruiting Process on SportsRecruits!
The most successful organizations on SportsRecruits start off by providing their student-athletes with basic guidelines for what they should be focusing on inside of the platform. As soon as your rosters are set up on SportsRecruits, your athletes will receive a welcome email in order to access their accounts as well as follow-up onboarding emails with important information and resources about how to navigate the platform and use all of the features. However, we find that student-athletes are far more likely to take action within the platform when expectations and goals are reinforced by you and your staff!
Lucky for you, we have a great Getting Started with SportsRecruits email template that outlines some basic guidelines for success. You can copy and paste this email directly into your own SportsRecruits Messaging System and Blast Message Your Student-Athletes!