Through the SportsRecruits verification process, college coaches are able to easily see which student-athletes are committed to playing at the next level. By going through the verification process you are taking the extra step to make your SportsRecruits profile stand out among the others.
What is the verification process?
The verification process is to ensure college coaches are evaluating real high school student-athletes. Being verified lets college coaches know that you are committed to your recruiting efforts and are serious about competing at the collegiate level. Keep in mind, getting your SportsRecruits profile verified is free!
The verification process is only 4 simple steps:
Complete Verification Call

Add your Grad Year

Fill out Your Position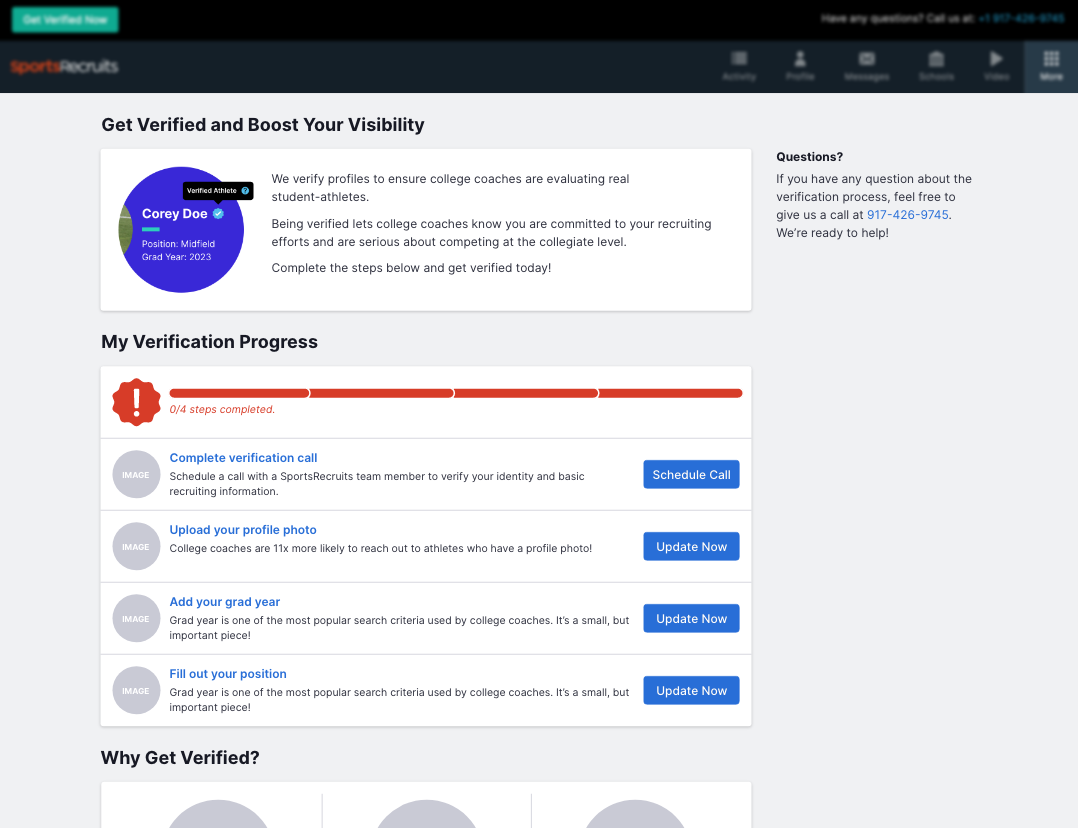 **Depending on your SportsRecruits profile, your verification process may differ. To see how to get your profile verified for college coaches, check out our article How to Get Your SportsRecruits Profile Verified
Why is it Important to Get Verified?
Getting verified ensures college coaches that they are getting secured and trusted information about prospective-student athletes who are serious about playing at the collegiate level.
It is important to provide this information because it allows college coaches to know what position you could fill on their roster. Think about it, if they do not know your position or your graduation year, how will they be able to recruit you?
Here at SportsRecruits, we know that verified accounts receive 2X more profile views because the information required for the verification is what college coaches are looking for.
The more information you have the easier it will be for a college coach to evaluate you from the comfort of their own home.
By getting your profile verified you are increasing your chances of a college coach taking the time to evaluate your profile and learn more about you as a student-athlete. To complete your identity verification, click here to schedule a call with a recruiting specialist.
Why SportsRecruits?
SportsRecruits is an online college recruiting website where high school student-athletes can host all of their academic and athletic information and recruiting videos in one place for college coaches to easily view. Through our Messaging System, student-athletes can easily email any college coach in the nation and be notified, in real time, when a college coach views their profile, video, or transcript
Looking to get your SportsRecruits profile started today? Sign up here!