You can contact schools and express interest in them through our Built-In Messaging System! Conducting your communication through your SportsRecruits.com account allows us to provide you College Coach activity information. How powerful! We place an automatically generated link to your profile in each of your sent messages that takes a college coach straight to your profile. They will have immediate access to all of your information in just one-click! In addition, the link allows our system to track when a college coach views your profile and watches your video!
To get an idea of what your messages look like on a college coach's side of things, click here!
You can begin drafting messaging from various places on your SportsRecruits Profile:
1. Using the Messaging Feature 
Once you know which programs you want to reach out to, navigate to the "Messages" tab on your athlete profile. You will find this tab in the top right corner of your screen. When you enter the messaging system, click on the "Compose" button in the right hand corner. To create a new message, type the program's name in the space provided. When you click on the program name, a drop down list of all of the coaches will appear. You can choose to email a specific coach or all of the coaches by clicking on the coach's name. Fill out the subject, compose your message, then hit "Send" in the bottom right corner and you are good to go!
2. Using the Advanced School Search
You can also message coaches straight from a program's landing page. On your dashboard page, click on the "Schools" tab. This will direct you to the Advanced School Search. Search for the school's name or use the search criteria function. When you are on the school's landing page, the coaches are listed in the athletics tab under "Program Information." Click on "Send Message" next to the coaches name and you will be directed to the messaging system where you can send a message to the coach! Again, you can choose which coaches you want to message by clicking on a coach's name. You can also message the program by hitting the blue arrow button that is next to the red heart. You will see this next to the programs name.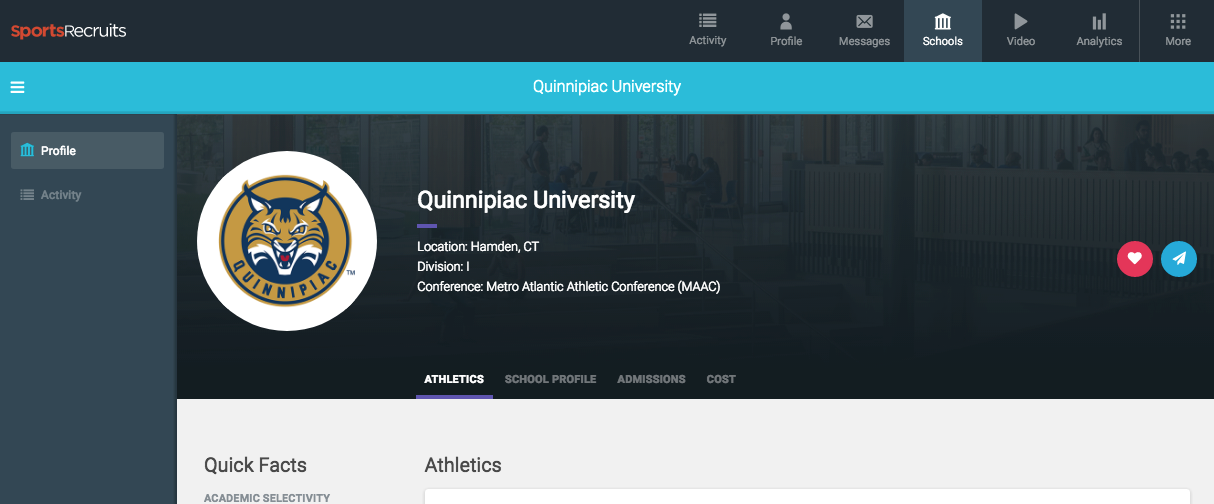 3. Straight from the Activity Feed
You can send coaches messages straight from your activity feed! To access your favorites list, click the "Activity" tab in the top right corner of your athlete profile. A list of your favorited schools will appear on the left hand side, just below your profile picture. You can message a program directly from this page by hitting the blue arrow button next to the schools name.
*For integrated Organization members:
If you are an integrated Organization member, your organization's coach can tag schools for you to keep on your radar and reach out to. On the "Schools" page, you will notice that there is another section labeled "Tagged" in the sidebar. This is where you view the schools that your Organization's coach tagged for you. You can send these schools a message by clicking "Send a Message" under the school name.