SportsRecruits is committed to providing feedback and complete transparency throughout your college recruiting process. One of our favorite features is our "tracking system." You will be notified via email or text message when college coaches view your profile, watch your video, or download your transcripts.
How do I know which coaches have viewed my Profile?
With every college coach in our database, it is easy for us to track which college coaches are viewing your information! Anytime a college coach clicks on your profile, you'll receive a notification in real-time to let you know. You can set up notifications on your account to send you emails, text messages, or both whenever certain types of activity are happening.
All of these interactions are summarized for you on your Activity Feed. It outlines all of the interactions happening on your profile. You can sort these interactions to include only a specific type of activity and/or activity from a particular type of user.
For example, you might choose "colleges" and "views" to display only activity involving a college coach viewing a part of your profile!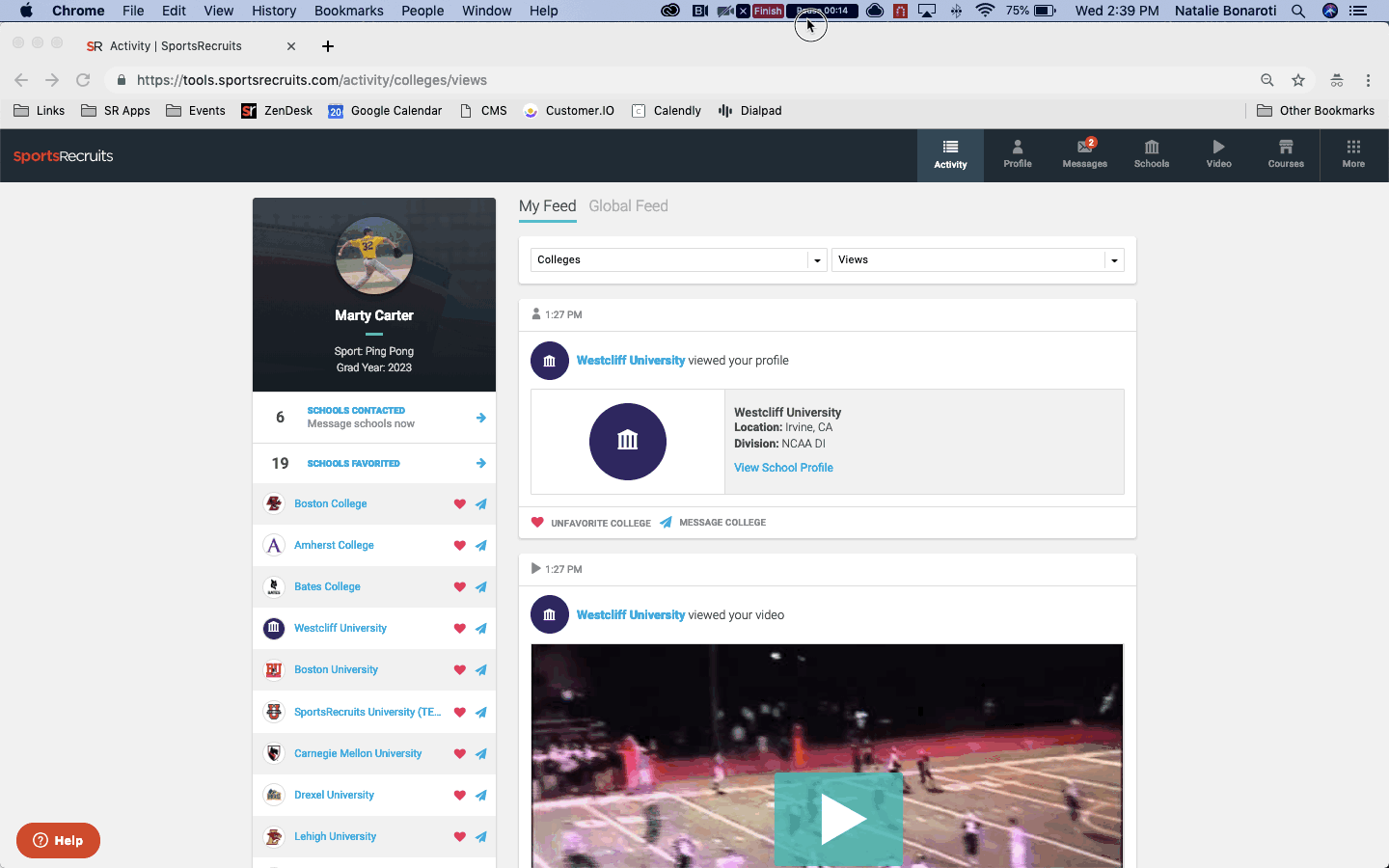 As you scroll through your feed, you'll see a card like the one pictured below each time a college coach has viewed your profile.

Not seeing which college, in particular, is the one viewing your profile? It is likely because you do not currently have a SportsRecruits membership. Check out our article Why Can't I See Which College Coaches Are Viewing my Profile? to learn more.
A college coach taking the time to view your student-athlete profile on SportsRecruits is a good sign. It means they are interested enough to learn more! If they take it even one step further and begin to engage with the different resources you've posted there for them, that is an even better sign.
How do I know which coaches have viewed my Transcript?
When a coach is seriously considering a student-athlete, they will want to get a look at their academic transcript and get an idea of whether the student-athlete would meet the college admissions standards. On SportsRecruits, you are notified which college coaches view your transcript. You can see transcript views in all of the same places that you'd find a profile view. You can set up notifications on your account, and see these interactions on the Activity Feed.
If you haven't already uploaded your transcript, click here to learn how. We highly recommend doing so, as it makes your admissions process into any college much easier for the college coach to manage! Evaluating you as a student during the college recruiting process is just as important as evaluating you as a student-athlete.
How do I know which coaches have viewed my recruiting videos?
College coaches rely on video to get a quick idea of what your skillset is like. We'll notify you each time a coach watches the videos on your profile. Be sure to set up notifications on your account. These interactions are summarized in the Activity Feed section as well.
You have the ability to upload an unlimited number of videos to your profile. Take advantage of this and upload some college recruiting videos for coaches to look at! We recommend uploading a combination of highlight videos and full game footage. For baseball & softball players, you may want to consider making a skills video.
You may notice the view count on your video is higher than the number of view notifications that you receive. The view count increases each time an anonymous person views your video. This includes family, friends, high school and club coaches, and other visitors.
All of this information provides you with transparency as you navigate the process, providing you with insight into the level of interest a coach or program has in you!
What is SportsRecruits?
New to SportsRecruits? This online recruiting platform is your one-stop shop for all things recruiting. It will provide you with a suite of online tools to jumpstart your recruiting process. This platform takes a confusing, messy process and makes it organized & efficient.
Transparency is always lacking throughout the process. You are never sure if a coach got your email, thinks you are a good fit for their program or has even watched your video. SportsRecruits helps you take those unknowns out of the equation.
Our best-in-class technology allows you to know which coaches are interested so you can steer your process in the right direction. Learn more & get started here for free!