Setting the Right Expectations
Now that your organization has made the decision to invest in IMLCARecruits, it is extremely important to (1) empower your athletes to get started on the platform right away and (2) make sure they are aware of all the tools at their disposal!
The most successful way to do so, is by relaying that you and your staff will be leaning on IMLCARecruits to drive the recruiting process. This messaging should offer athlete-driven objectives that establish a foundation for a successful recruiting process on the platform. Just like in practice, setting clear expectations and holding your athletes accountable are the best ways to ensure they are successful. With the IMLCARecruits messaging system, you and your staff have an extremely easy way to communicate directly with all of your athletes at once as well as centralize all lines of recruiting communication in one place.
Below is an example of a message to send to your athletes that provides them with key milestones to hit on the platform. We recommend giving your athletes a weekly "challenge" to complete on the platform to guarantee they are maximizing their time and energy on IMLCARecruits!
Example Message to Send to Your Athletes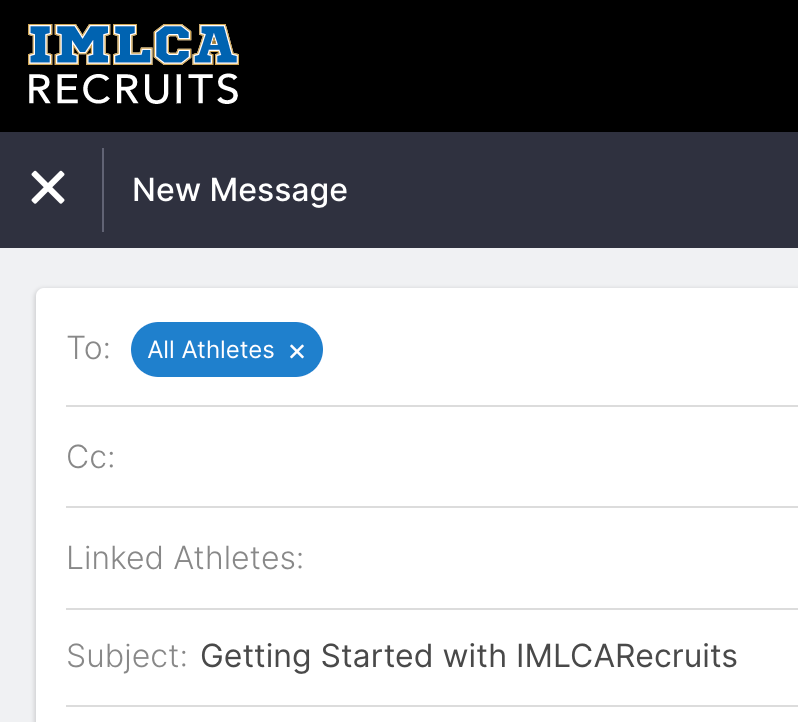 Athletes,
IMLCARecruits is a useful tool to use as you are tackling your college recruiting process, especially as most of college recruiting has moved online. I am sending you this email to let you know that our teams have been successfully launched on IMLCARecruits. You should have received an activation email from their team in order to get into your new account - Please be on the look out for that email and log into your IMLCARecruits account once you have received it!
Once you have activated your account, you are all required to watch the following video: SportsRecruits Student-Athlete Training. This Training Video will walk you through all the features of your new profile.
After you've gone through that quick video, I've also outlined some action items below to help you get started.
Challenge 1: Make sure your profile is Verified
Challenge 2: Get Video on your profile - Now more than EVER, College Coaches are relying on video to assess you as an athlete
Challenge 3: Research schools that you might want to consider playing for at the next level. I want you to Favorite schools that are of interest to you, before moving on to "Challenge 4," I want you to have 20 schools on your Favorites List
Challenge 4: Introduce yourself to College Coaches
If you have any questions, from forgetting your password to how to add something on your profile, you can email help@sportsrecruits.com or visit the SportsRecruits Help Center for more helpful tips.
Let's get it going,
Coach
How to Send This Message to My Team
Using the blast messaging feature, you can send messages to 'All Athletes' within your organization or to a specific team.