Club and high school coaches on SportsRecruits can use the tagging feature to help drive student-athlete engagement with college coaches. It also helps organize and keep your families on the right track with their college search.
SportsRecruits has every men's and women's NCAA Division I, Division II and Division III school in our database as well as all NAIA, club, community college, and junior college programs. This allows club and high school coaches to assist student-athletes in their organizations to gain exposure from college programs at every level.
Tagging allows club and high school organizations to help set realistic expectations for student-athletes' dreams of playing college sports and which level of intercollegiate athletics they can play. We recommend having at least 15-20 schools tagged for each athlete. Tagging has a major impact on increasing the communication among your athletes and college coaches.
How to use the tagging feature from the athlete's tab:
On your dashboard page, click on the "Club" tab on the toolbar
Then, click on the "Athletes" tab on the left-hand side

To search for an individual student-athlete's profile, enter the student-athlete's name into the search box

Click on the student-athlete's name

Once directed to the athlete's page, click on the "Tag Schools" tab on the left-hand side

You will be able to either search for a specific school, or choose from a full list of schools

Then, click "Add" to tag the school for your student-athlete

When you tag a school, the student-athlete is notified via email or text message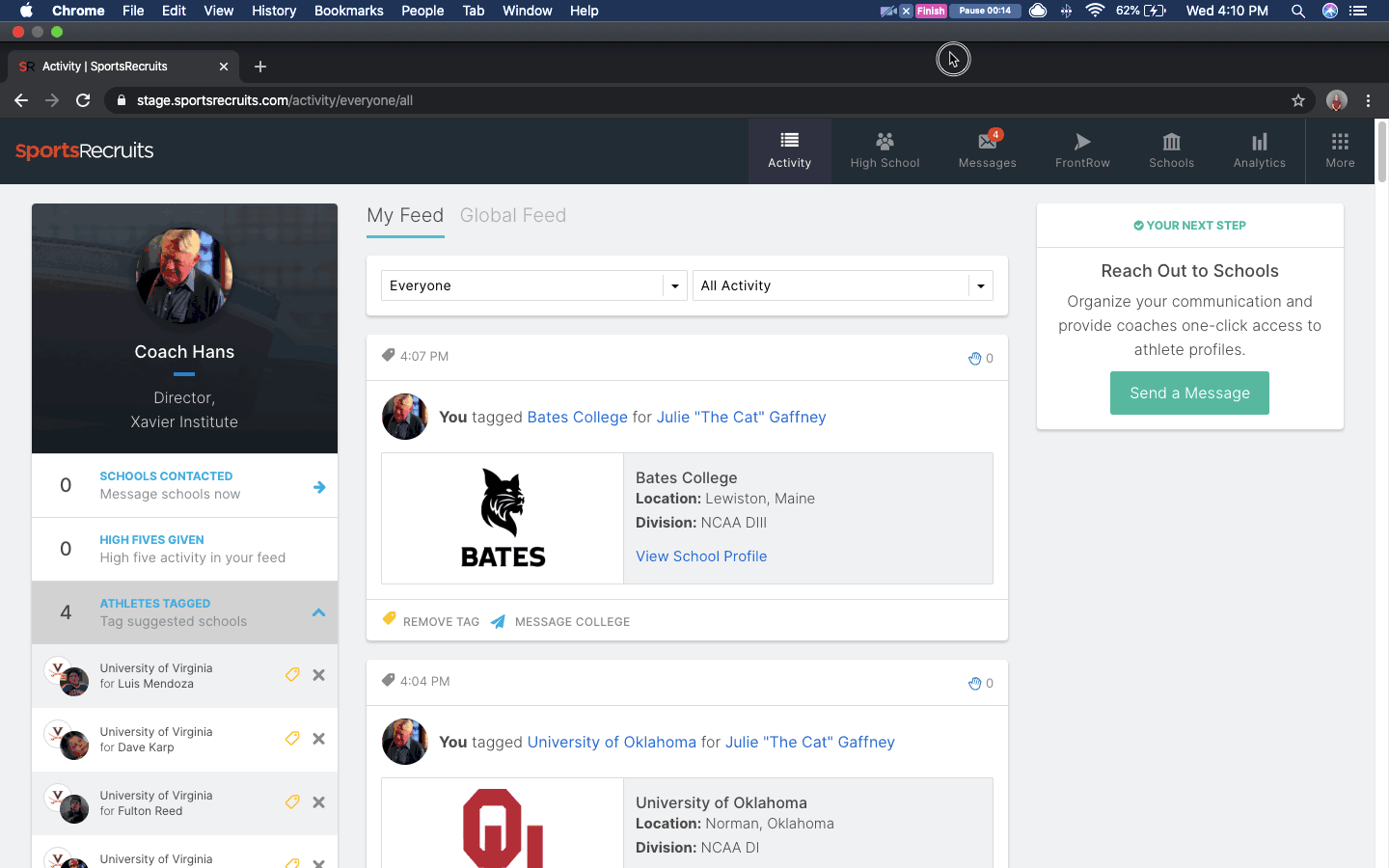 How to use tagging in the school search tool:
Once you run a school search, click on the school's name

On the school's landing page, click on the "Tag Athletes" tab

You can search for the student-athlete(s) by name or choose from the athlete listing

Select the student-athlete(s) to tag

Click "Done"

Then, the student-athletes you tag will show up in the activity feed
Most coaches like to send a message to each student-athlete they tagged a program for. Doing this lets the athlete know why they were tagged for a particular school and also helps to ease any nerves about contacting the coach.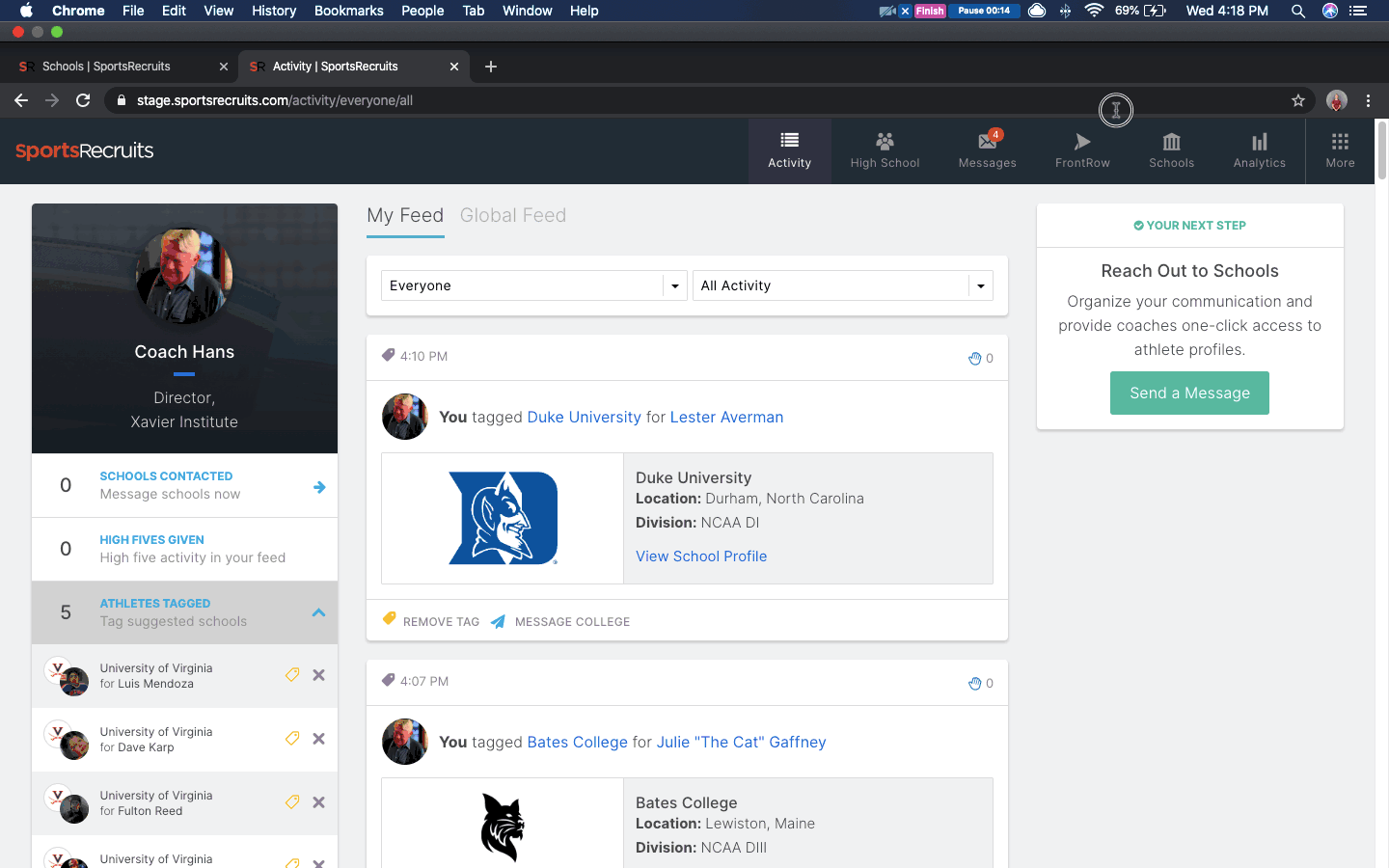 Check how many schools have been tagged for each student-athlete:
Navigate to the "Analytics" tab on the toolbar

On the Stats page, click "Athlete"

A list of your student-athletes will appear where you can view the number of schools tagged
About SportsRecruits for Clubs and High Schools
SportsRecruits is a college recruiting platform for student-athletes and their families as well as the clubs and high schools they are part of. These organizations use SportsRecruits as a tool to keep the college recruiting process organized and motivate their student-athletes to actively engage in the recruiting process. The tagging feature is one of the many tools that coaches use to meet with their student-athletes and identify schools that student-athletes should be pursuing.
SportsRecruits has every NCAA and NAIA program in the country in our database. Student-athletes have access to academic, admissions, and athletic data on the schools. Everything from majors to financial aid to the acceptance rate in the college application process. Student-athletes are empowered to make informed decisions about the schools they reach out to and have the feedback of their coaches and recruiting coordinators at their fingertips.
If you are not already part of SportsRecruits check out what we have to offer for clubs and high schools.