Every college athletic program has a landing page on SportsRecruits, providing in-depth academic and athletic information about that school. These pages include anything that a high school student-athlete would need to know about a prospective school that they are interested in playing college sports at and as they navigate through their college recruiting process. From the current college coaches on staff to majors offered at that college, down to the cost of room and board along with financial aid information, it's all in one place. All of this data is gathered from U.S. News and World Report.
How to Search For A Specific School
Navigate to the "Schools" tab on the top toolbar

Start typing in the school's name in the search bar where it says "Search by School Name…"
The dynamic search system will start populating schools based upon the letters that you've typed in
When the school you were searching for appears, click on its name
This will direct you to the school's landing page
Within each college's landing page, you can find the following information:

"Profile" - Current coaches on staff, size of school, cost, committed athletes

"Activity" - The interactions your student-athletes have had with that school. Whether they've favorited it, exchanged messages with the coach or received views from the coach

"Tag Athletes" - Here you have the ability to tag this school for certain athletes, or see which student-athletes that have been tagged for that school in the past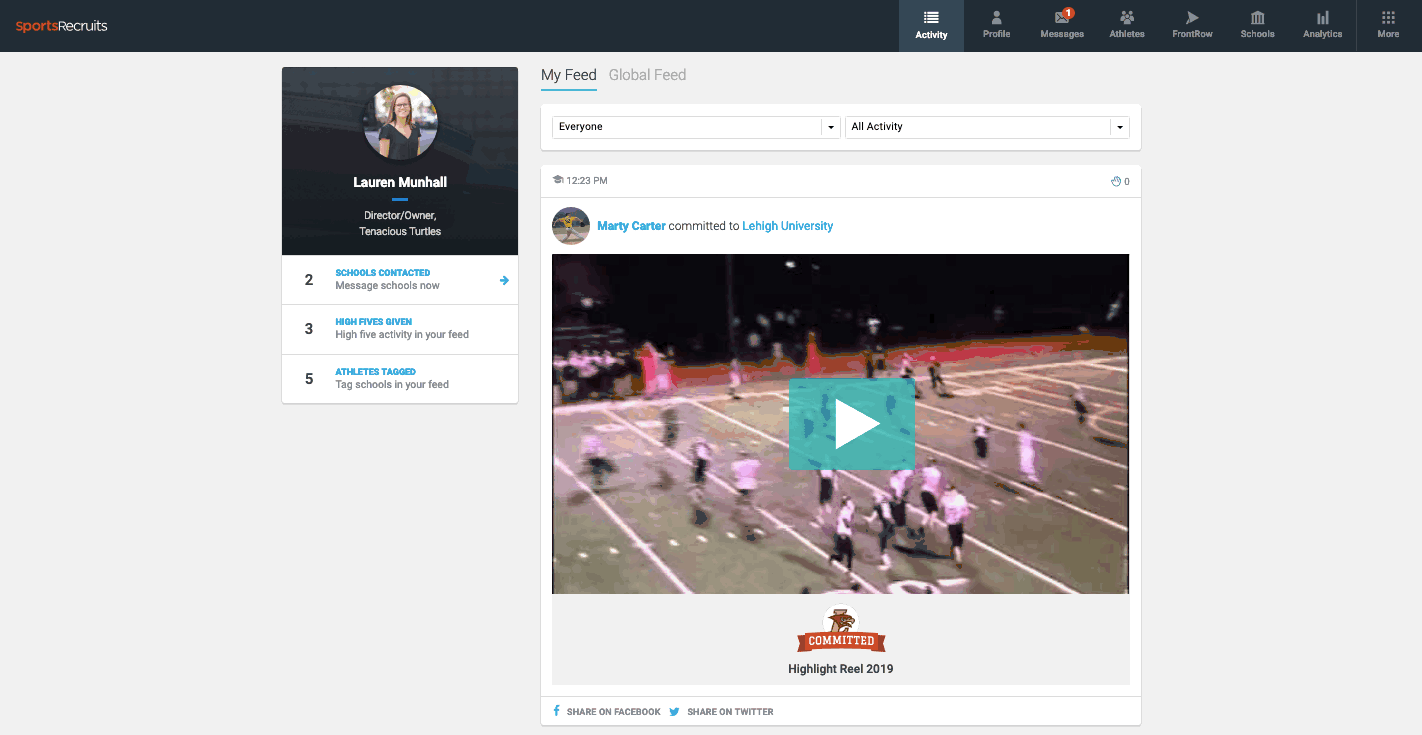 Which schools are most popular among your athletes?
Navigate to the "Schools" tab on the top toolbar

Then click on "Favorites" on the left-hand side

The schools are automatically listed in order from most favorited to least favorited on this page. Your club's activity with each school is also listed next to the school.

You can filter the activity by All Activity, Messages, Profile Views, Video Views or Document Views at the top.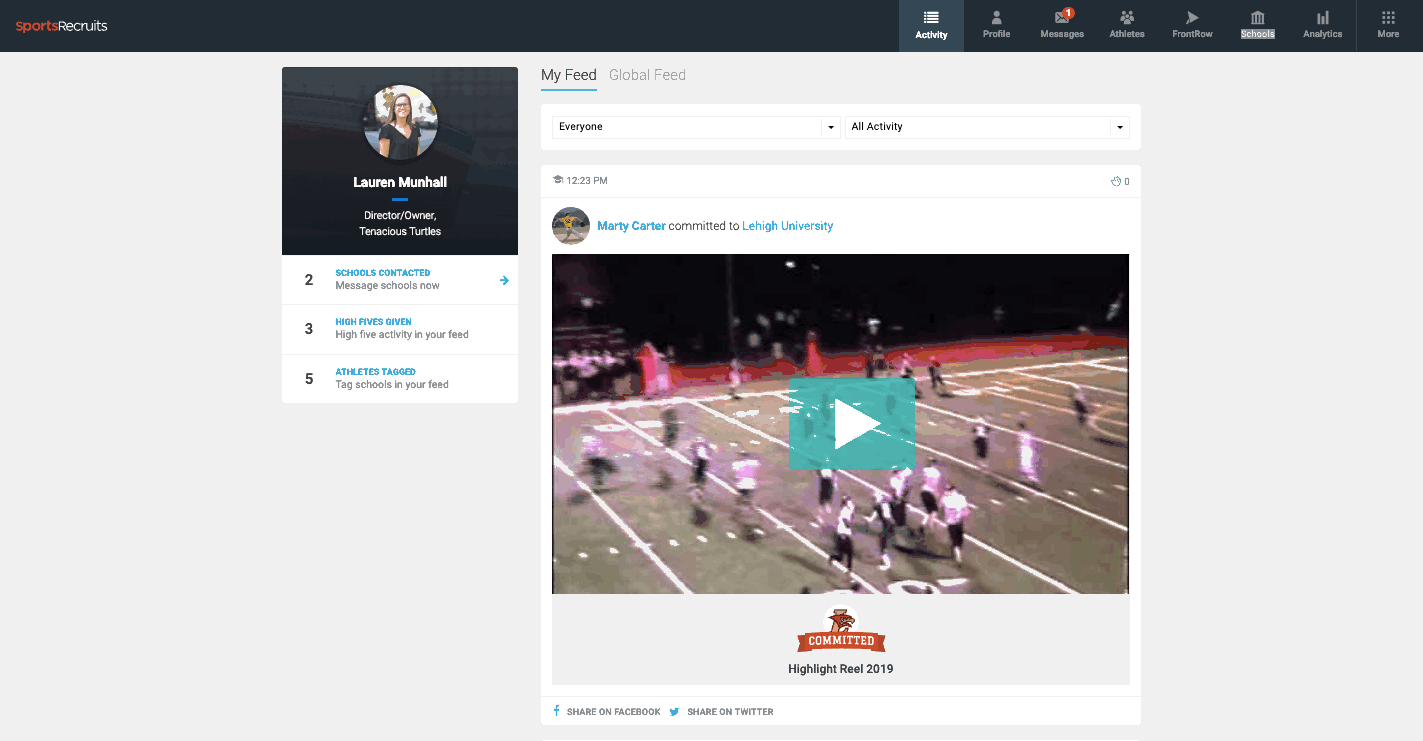 Which schools your club staff has tagged for your athletes?
Navigate to the "Schools" tab on the toolbar

Then click on the "Tagged" on the left-hand side

Scroll through the list of schools yourself or other coaches at your organization have tagged for your student-athletes
Next to each school's name is the name of the staff member and club athlete that he or she tagged.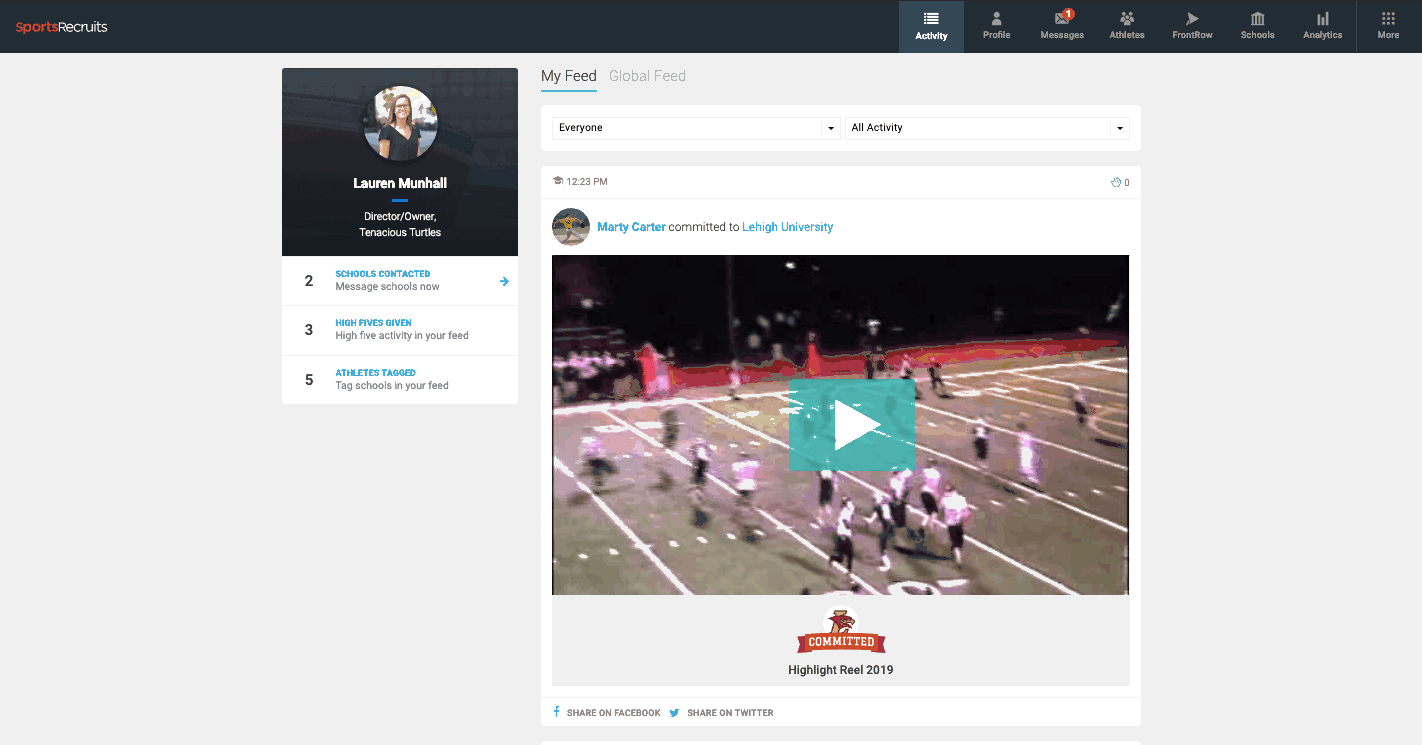 Why SportsRecruits?
SportsRecruits is a suite of online tools that helps your organization and your student-athletes to stay organized along the recruiting process. We are NOT a recruiting service—SportsRecruits is a college recruiting website, which lets your student-athletes build a recruiting profile, research college athletic programs, seamlessly connect with college coaches, and track the process from start to finish, including complete transparency into when a college coach views their profile or video.
In addition to the Advanced School Search which allows you to explore each college's landing page, you can explore other tools such as the Messaging System, Analytics Section, and more. This platform was designed for high school athletes to promote clarity, transparency, and efficiency throughout the sports recruiting journey as well as to help you oversee and hold them accountable throughout their process! Interested in getting your organization signed up with SportsRecruits?
Sign up today for free!