Sharing your profile link and videos is one of the best ways to get yourself in front of college coaches so they can view all your information and evaluate you as a student-athlete. Having video is key to having a complete profile, and in this article, you'll learn how you can share it with college coaches.
Sharing Options
1. Share your Profile Link
One way college coaches will be able to see the video you've made visible on your profile is if you share your profile link with them. By viewing your profile, they'll have the option to click and watch any video on your profile. We recommend this option because this will direct college coaches to your profile, where they will be able to see any video on your profile, your academic information, etc.
2. Share a Specific Video Link
If there is a specific video you'd like a college coach to see, you can copy the "Video Share Link." To locate this link, just click to watch the video on your profile, and this share option will be located in the bottom right corner under the video.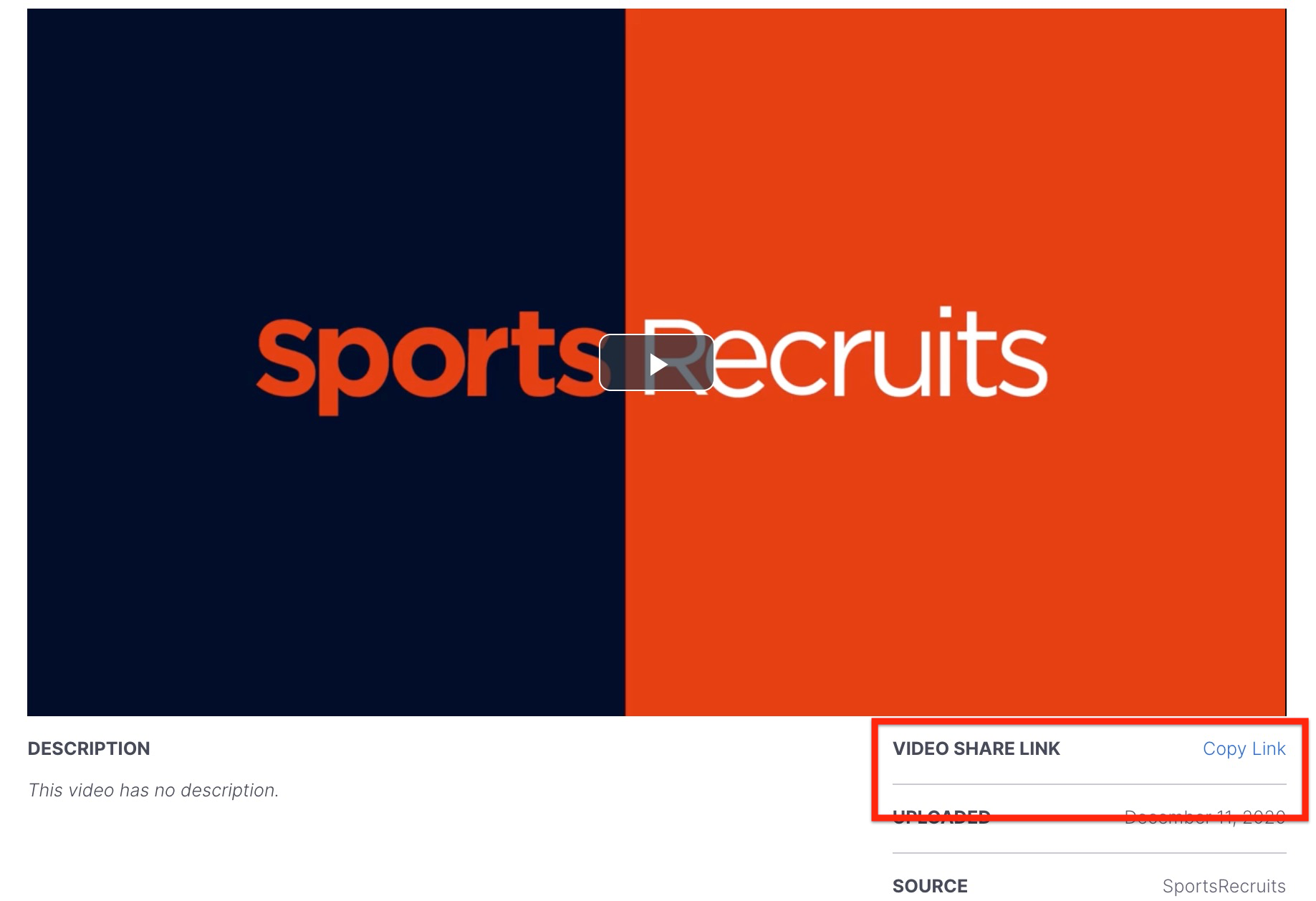 Note: Only videos that are public or "visible" on your profile will have the option to share a link. Videos that live in your video library and are "not visible" will not have this option.
Where to Share My Videos
Whichever option you decide, we recommend using the "SportsRecruits messaging system" to communicate with college coaches and share your links. With every message sent using the messaging system, a link to your profile is automatically embedded. This allows us to track college coaches who view your profile and watch your videos so we can send your view notifications and keep a view count on your videos.
Note: If you send a link to your profile outside of the messaging system, you will not be notified of any college coach activity on your profile.
However, having your link available to college coaches on social media is still a great option to get exposure. For this reason, we recommend sharing a link to your SportsRecruits profile on any social media page or anywhere you are sharing your athletic information. This may include but is not limited to:
Twitter

Instagram

Recruiting Questionnaires, etc.
Other Video Resources
To learn more about the platform's video features and the importance of video, check out these other help articles:
What is SportsRecruits?
SportsRecruits is a platform that empowers high school student-athletes in the college athletic recruiting process. Our platform is used across the country by thousands of college coaches and student-athletes! You can upload game films and skills videos to your profile. Video has become an important part of the college recruiting process.
If you're a high school athlete, create a free SportsRecruits profile here!