The "Progress Bar" feature, located in the "Schools" tab of the SportsRecruits account, is a great way for student-athletes and their families to hold themselves accountable throughout their recruiting process. This feature allows the student-athletes to see all of their activity with every school on their favorites list.
Accessing the Progress Bar
Login to your SportsRecruits account

Navigate to the "Schools" tab

Select "Favorites" from the sidebar on the left

You will automatically land on the "Rank" section of your favorites list, where you have sorted each school by numerical ranking

Below any of the schools on your list, click the gray bar that reads "Progress" to reveal a dropdown.
Components of The Progress Bar
The "Progress Bar" outlines a series of "Milestones" that make up a typical recruiting timeline a student-athlete may have with a school. Keep in mind that these steps do not have to occur in the specific order that they are outlined in your progress bar. Every process is unique! These steps include:
"Introduce Yourself" - When you send your first message to a college coach through the SportsRecruits messaging system, this box will automatically check off.

"Request Help" - If you are a part of an integrated organization you can request help from your club or high school coaches. You can only request help once you have sent your first message through the SportsRecruits messaging system.

"Receive a View" - When a college coach views your profile, video, or transcript this box will automatically check off.

"Campus Visit" - After visiting a college's campus, you can manually check this off.

"Receive an Offer" - Once you receive an offer from a college, you can manually check this off.

"Commit" - When you commit to a college, you can manually check this off.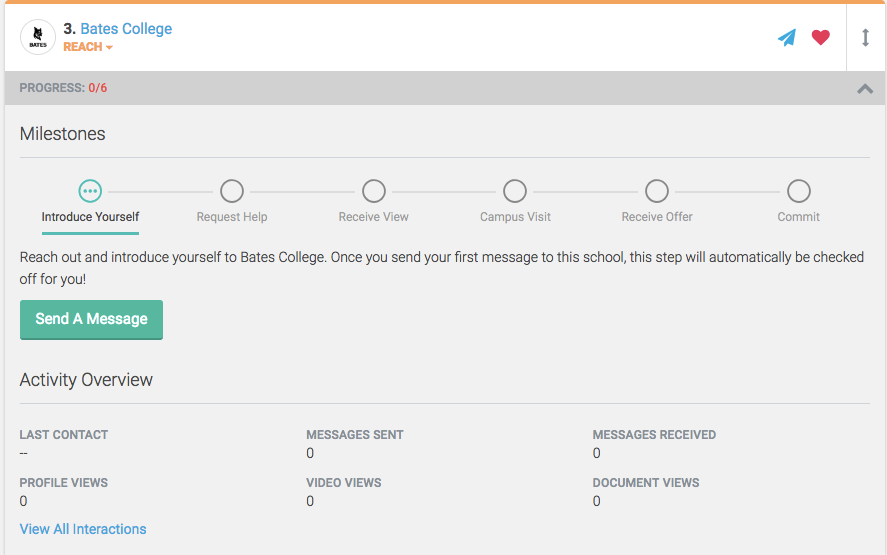 The Activity Overview
Below the checklist portion of the progress bar, you'll find an "Activity Overview." The data listed here summarizes all the interactions you have had with that particular program.
This feature makes it easier for student-athletes to see how their recruiting process is progressing with a specific school. You are able to see the number of profile views, video views, transcript views, messages sent (messages you've sent to college coaches), and messages received (messages college coaches have sent to you). To see all of this specific activity in more detail, click "View All Interactions".
To learn more about how SportsRecruits tracks college coach activity, check out our article, "Which Coaches Viewed My Profile"
Organizing the List of Schools
You can update the order of your schools or organize them by rank, category, or last contact. For more information about this, check out the article "Personalizing Your Favorites List & Narrowing Down Target Schools."
*Note: College coaches can only see if an athlete has favorited their specific school. All other schools on your favorites list will be hidden from college coaches
Why SportsRecruits?
SportsRecruits is a college recruiting website that was created for student-athletes and organizations to take control of their recruiting process. On SportsRecruits you are able to host all of your athletic information, academic information, and recruiting videos in one place for college coaches to see with just one click!
Are you looking to jumpstart your recruiting process? Get started with a free profile today!