Making sure you have a complete profile is extremely important in the recruiting process. A completed profile allows college coaches to access all the necessary information that they will need to evaluate you as a potential student-athlete. The more information and detail that you have on your profile the better! We recommend that you update and check how your profile looks frequently.
Want to see what your profile looks like to college coaches? When under the Profile tab on your account simply hit the "Preview" button.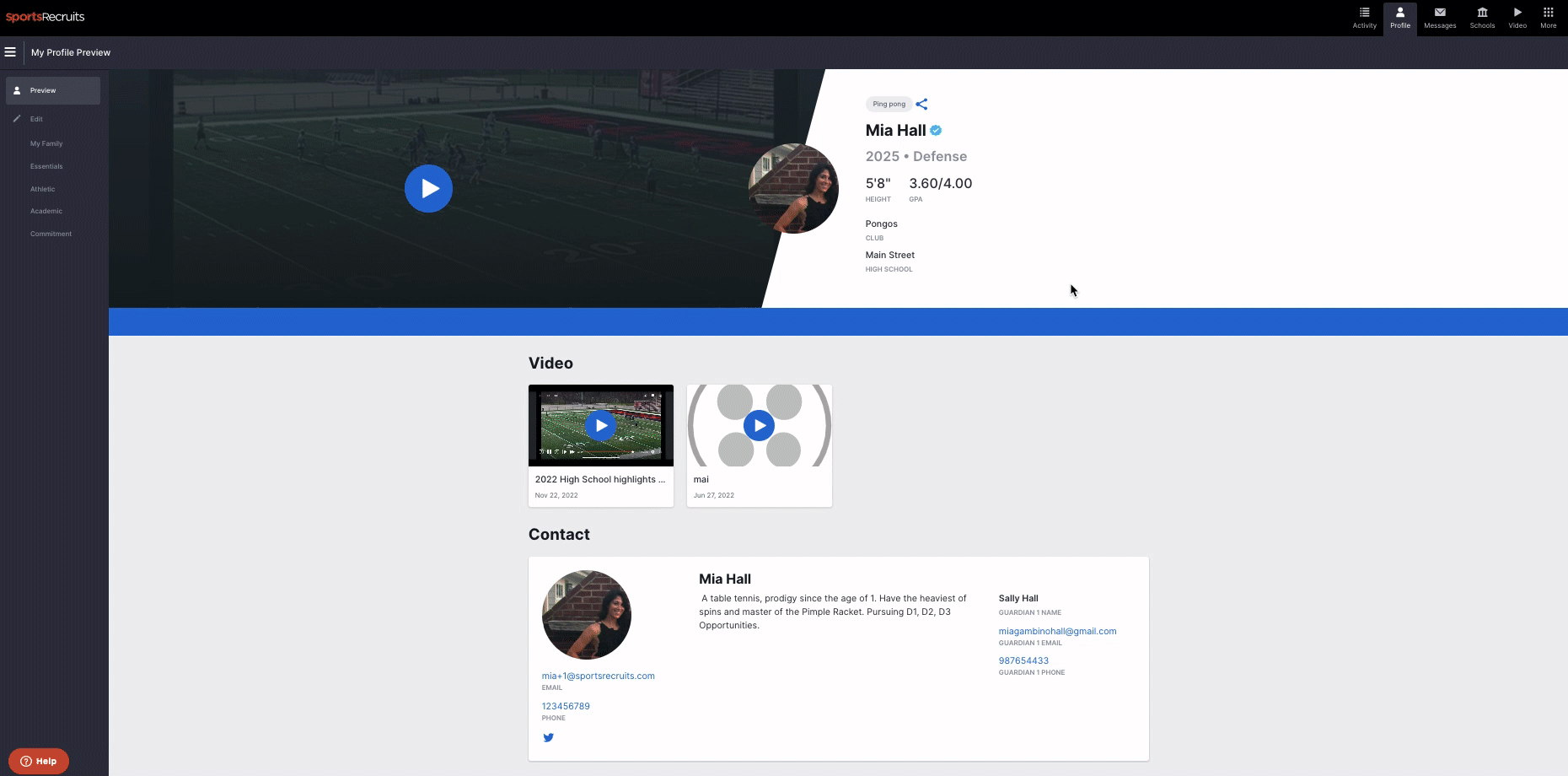 SportsRecruits Profile
The first thing you'll want to do when completing your profile is to head to the Profile tab on your account. From here you'll then see a sidebar on the left-hand side of your screen. You then can navigate to these 4 subsections:
My Family

Essentials

Athletic

Academic
For each one of these subsections, you will want to make sure you are completing as much information as possible. Additionally, as you're moving through each subsection please make sure you're saving your progress by hitting the Save Button at the top or bottom of the page.
My Family Section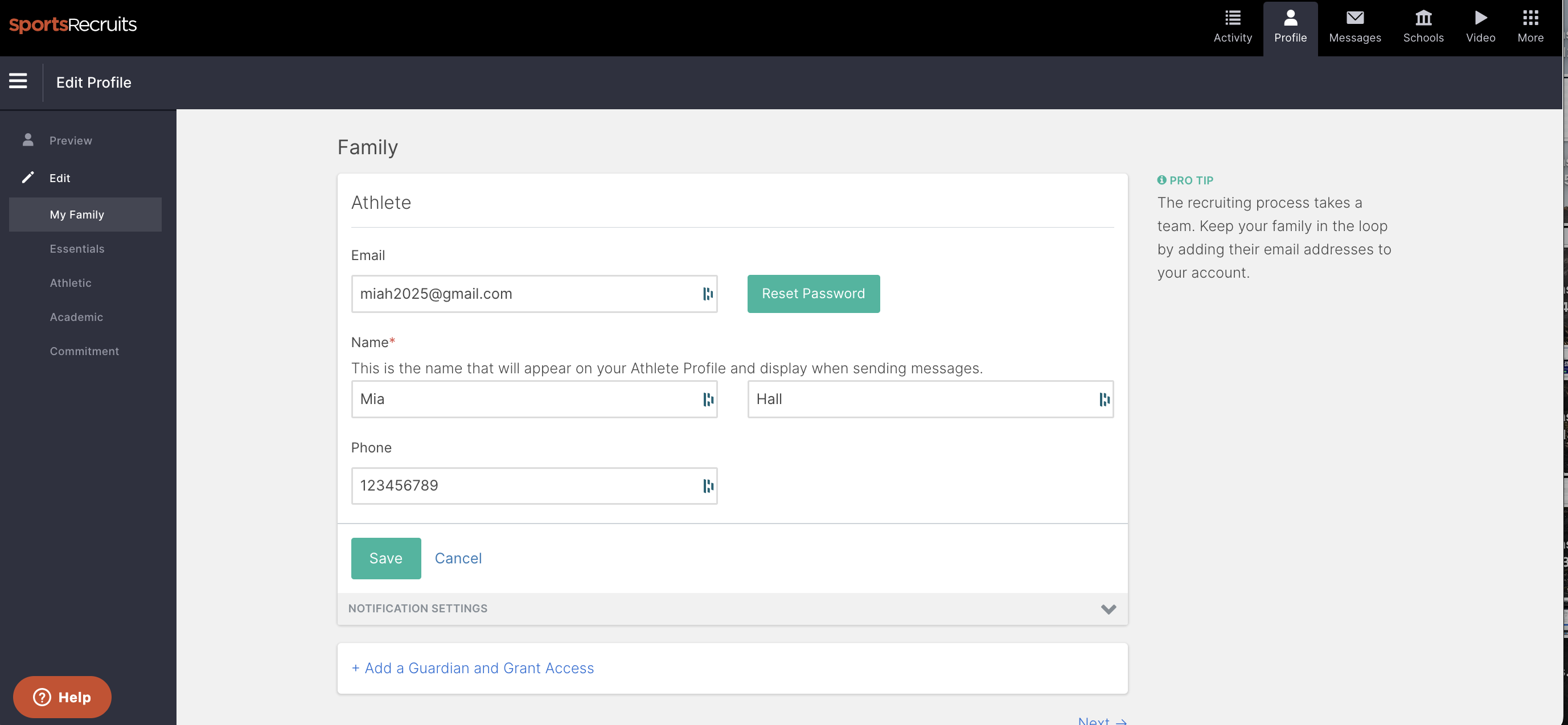 In this section please make sure your athlete email and phone number are up to date and correct. You'll definitely want to make sure you're choosing an email that you frequently check and may even want to create a recruiting-specific email account so that you are not losing track of any potential correspondence.
Pro Tip: The player email that you're inputting in this section should also be the email that you use to waiver and register for all events.
Don't forget to add your player's cell phone number. More and more college coaches are reaching out via text message to student-athletes. Coaches want to make sure they are specifically getting a hold of you! If they're taking time to reach out this way you will also want to ensure that this text message is properly delivered.
Fill out the Parental/Guardian information completely as well. When preparing for recruiting visits and potential phone calls, college coaches want to know ahead of time who may be on a call or visit with you! Also by adding parents or guardians they also will be able to get notifications when colleges are viewing your profile and videos!
The Essentials Section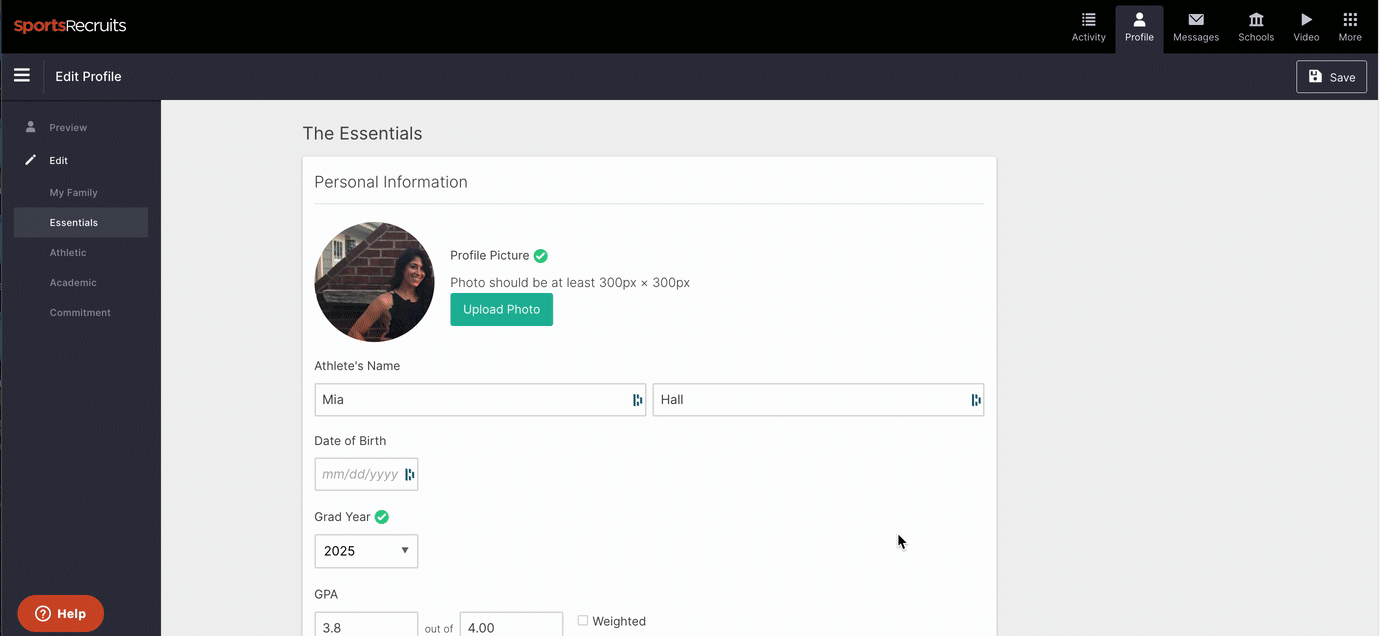 This subsection has 7 parts:
Personal Information

Standardized Test Scores

Athletic Info

Assigned Club

High School Team

Video

Social Profiles
Personal Information
Start by making sure everything under this section is filled out.
Upload a profile photo

.-College coaches actually prefer a photo that shows your face, think a school photo, or a roster headshot rather than an action shot of you. This helps college coaches put a face to a name by uploading a photo where they can see your face.

Fill in your Date of Birth

Graduation Year

GPA - Make sure you update this throughout the year

Address
Fill in Your Standardized Test Scores
Coaches know, depending on your grade, you may not have standardized test scores,an eligibility number, or high school stats. That's okay! If you don't have that information ready to put on your profile it will not appear blank for coaches to see. Once you do have this information make sure you update it!
Athletic Information
Fill in your statistical information as best you can.- College coaches know depending on your grade or the season you may or may not have statistics yet. Once you do, just make sure to fill in this area!
Assigned Club
Make sure your club information is correct and that you have entered in your jersey number. It's important to have your club coaches contact information. Depending on the college coach, sometimes they could reach out to your club coach to learn more about you.
If you're a part of an integrated club this section will already be filled out for you!
High School Team
Complete this entire section and make sure you have entered in your high school coaches information!
Video
Video is the most requested information by college coaches. Quality video is the best way to showcase your athleticism to college coaches, especially those who couldn't make the trip to see you play live. You can upload an unlimited amount of video to your SportsRecruits video library. Make sure you're also selecting a video to be featured on your profile.
Your Featured Video is a chance to choose a video that best showcases your athletic skills. Your Featured video should ideally be a 2-3-minute highlight reel of your best plays, or a skills video, depending on your sport.
Have videos on YouTube, Vemo or Hudl? Not a problem! You can embed them into your video library as well!
Social Profile
If you have a Twitter handle enter it here!
Pro Tip: Make yourself searchable! Put your profile link on all your social media outlets
The Athletic Section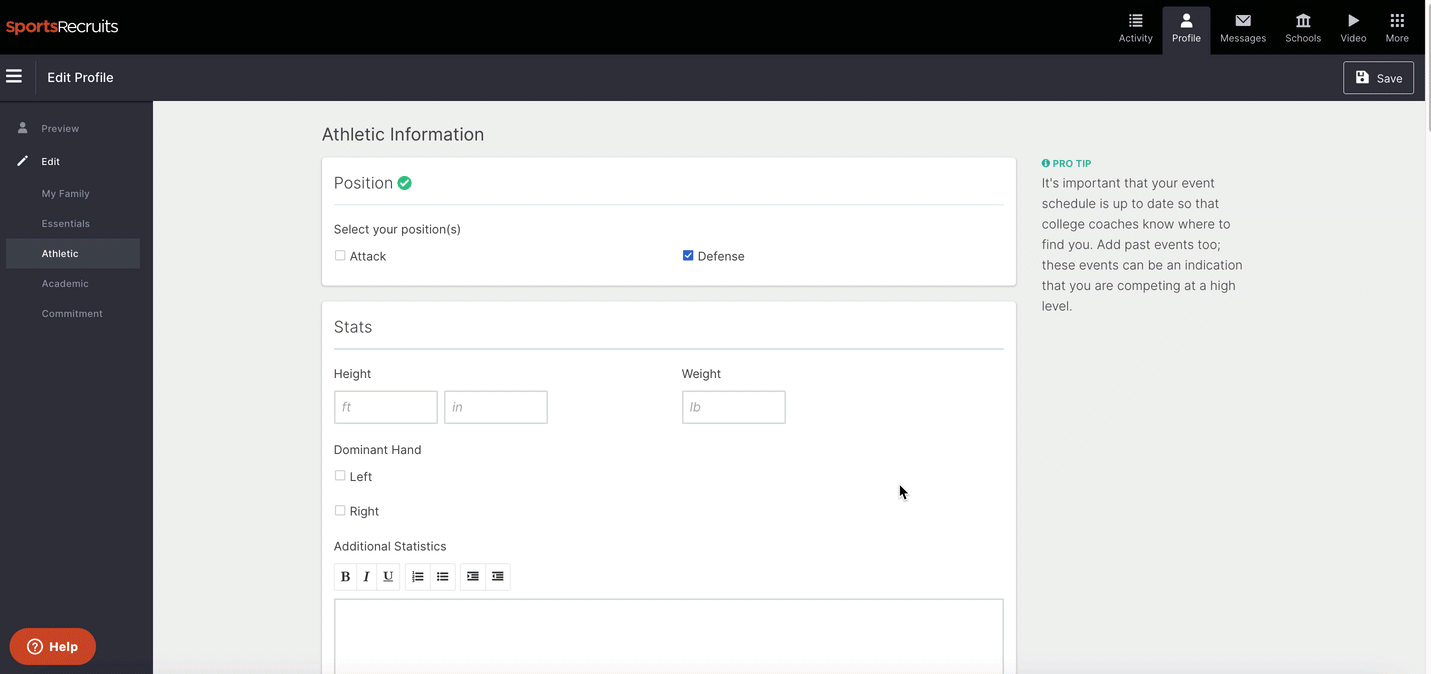 Events
Make sure your Event section is complete and up to date. If there aren't events present already, manually enter events. It's important that your event schedule is up to date so that college coaches know where to find you. Add past events too; these events can be an indication that you are competing at a high level.
Other Sports Played
College coaches really love well-rounded multi-sport athletes. If you do play any additional sports make sure you add this here!
The Academic Section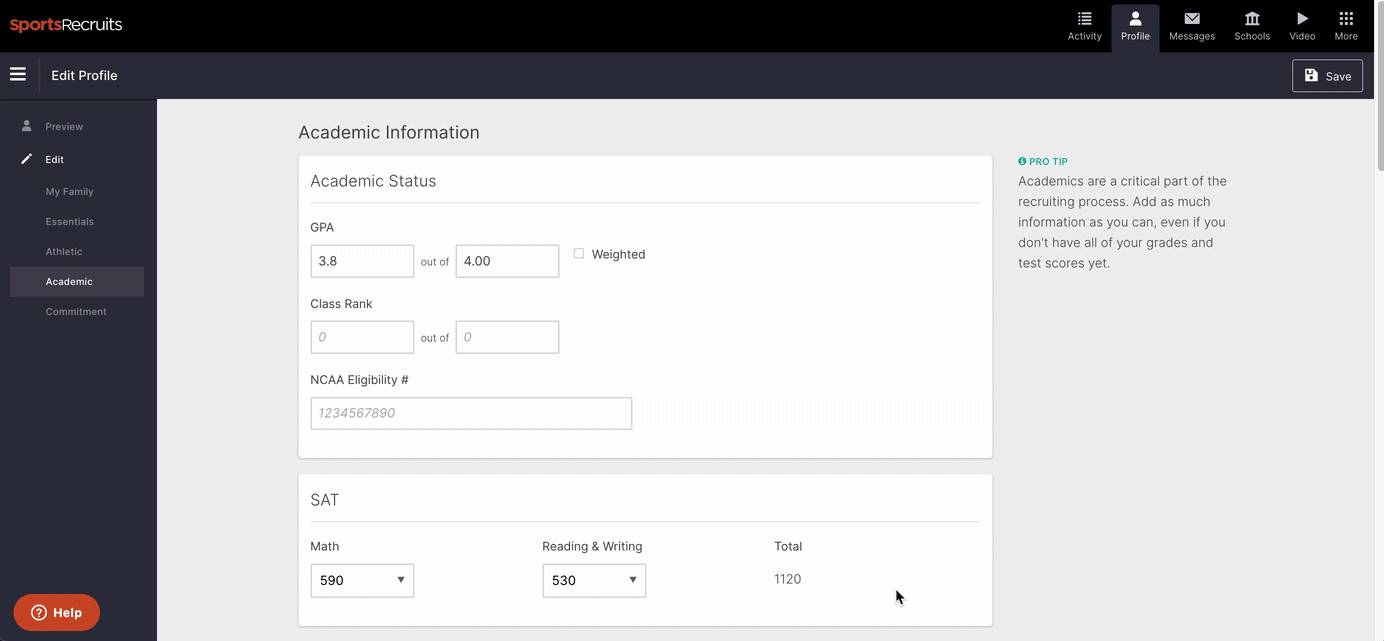 In this section, it will be important to include any recent transcripts that you have. College coaches like to see transcripts so as to see which classes you are currently taking or have taken and if you will be a fit for the school's academic profile.
You should also include your NCAA Eligibility Number once you have it.
Finished filling everything out? Don't forget to check out what your completed profile looks like by hitting the "Preview" button located under the Profile Tab!
What is SportsRecruits?
SportsRecruits is a platform for high school student-athletes designed to help with the recruiting process. If you are interested in playing athletically at the collegiate level, we give you the tools and resources necessary to be seen by college coaches. Utilizing our platform gives you total transparency when a college coach looks at your profile.
Your profile is home to your academic and athletic stats, test scores, highlight videos, and much more for college coaches to see. Gone are the days of searching for college coaches' email addresses because our messaging system has all the up-to-date contact information and notifies you when a college coach messages you and looks at your profile!
Try SportsRecruits today by creating a free profile here!