On the college coach's side of the SportsRecruits platform, they have the ability to publish the positions and academic credentials that they are recruiting within upcoming graduation years.
These Roster Needs are only visible to student-athletes and club or high school staff with SportsRecruits accounts.
If a college coach chooses to publish these needs on SportsRecruits, they can be found on that coach's program page. The following article addresses some frequently asked questions that athlete, staff and college coach SportsRecruits users have been asking.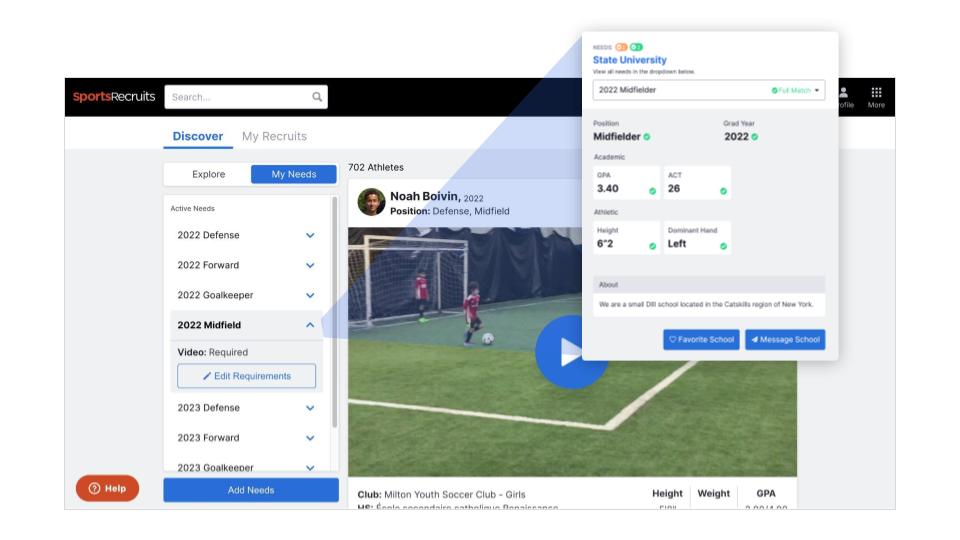 Who can publish Roster Needs?
Only the current college coaches on staff can publish Roster Needs for their particular sport. SportsRecruits employees do not publish or update any Roster Needs.
How often are Roster Needs updated?
Due to the fact that only the current college coaches on staff can publish Roster Needs for their particular sport, Roster Needs can be updated whenever those college coaches update them. Please be aware that college coaches may update their needs on a rolling basis, once a recruiting season, or anywhere in between. As a student-athlete or a club/high school coach, if you believe Roster Needs are out of date, please reach out to the college coaches on staff at that program.
How do college coaches view student-athletes who meet their needs?
When a program publishes their needs, the college coaches at that program will now have a feed of student-athletes who fit the criteria of this need. If student-athletes are missing profile information that has been marked as a requirement for a positional need, they will be significantly less likely to appear in college coaches' feeds. This is especially true for profile video, as video is the main way that college coaches evaluate prospects from the SportsRecruits platform. We suggest for student-athlete to add a highlight reel as their featured profile video!
Why are Roster Needs visible for student-athletes, club and high school coaches?
The Roster Needs feature is intended to make the recruiting process more efficient and comfortable for both college coaches and prospective student-athletes. College coaches are sifting through every athlete in the country to find the ones that match their program's athletic and academic standards. At the same time, student-athletes are trying to balance their athletic ability with their personal and academic interests to find the right place for them. When student-athletes understand the types of recruits each program is targeting, they can focus their efforts on the colleges and universities where they have the greatest potential to excel. This transparency benefits college coaches by putting the right athletes in your inbox and helping prevent awkward conversations with athletes that don't fit your program.
What does it mean when I'm on a program's page and they do not have needs listed?
The Roster Needs section will only appear on a program page if the college coaches at that program have published them. If the Roster Needs section is not visible, then the college coaches at this program have not added them to the platform. However, this does not necessarily mean they are not recruiting student-athletes in upcoming class years. If you are interested in finding out if you are a potential prospect for this program, it's worth sending the coaches a message to ask what their needs are!
For greater transparency into what information college coaches, athletes, club and high school staff have access to via Roster Needs, check out the articles linked below: