As a prospective student-athlete, you can use the SportsRecruits platform to upload unlimited amounts of video for any college coach in the country to view throughout the recruiting process.

College coaches rely heavily on video to evaluate the student-athletes who are reaching out to them.
The SportsRecruits platform makes uploading your video easy. There are three separate sections in the "Video" tab on your student-athlete profile.
The "My Videos" Section
Hosts any video that you have (including Hudl video, YouTube video, Vimeo, Krossover, etc). This is also where you can access and download your purchased film.
If you have an IWLCARecruits Pro account this is where your event film will be automatically uploaded.
If you have an IMCLCARecruits Pro account this is where your event film will be automatically uploaded
**Event videos marked "Event Premium" are those that are included at no additional cost with an IWLCARecruits or an IMLCARecruits Pro account.**
If a video is listed here, it does not mean that it has to be displayed on your student-athlete profile. Visibility of your video on your student-athlete profile only occurs once the visibility toggle is on (green).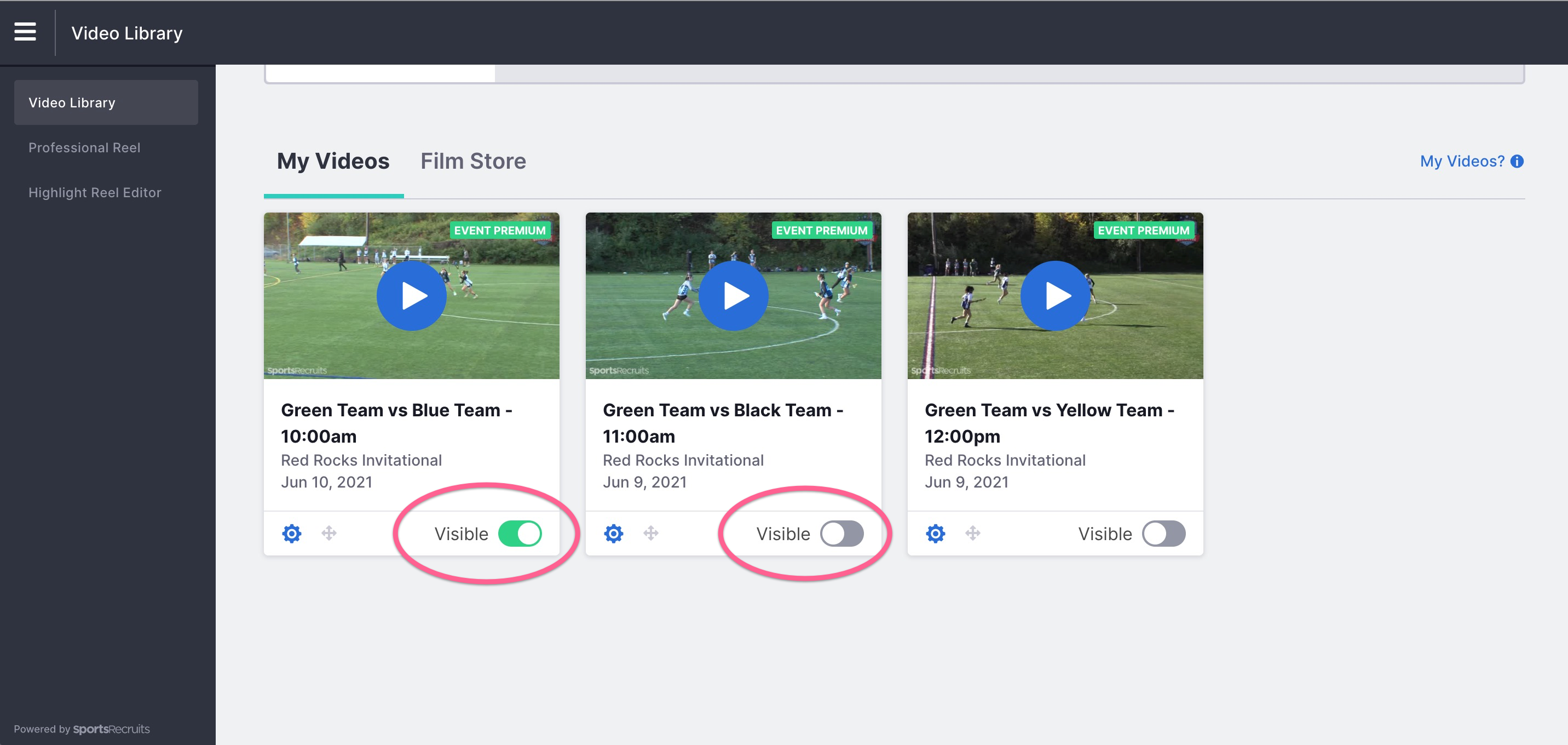 You can drag and drop the videos to change their order. We recommend that you put the most important/recent videos at the top.
There are (3) actions you can perform on the video that you've uploaded. To access these actions click on the Blue Gear icon on the bottom left of each video. You will then see the following actions:
Edit: We recommend that you edit the video title and description to include eye-catching words or phrases.

Delete video: The video will be deleted from your video library.

Download: You can download the video file to your computer.
Note: Embedded videos & videos marked "Event Premium" cannot be downloaded.
The "Film Store" Section
This includes footage that Cross Street Sports has filmed of your team at an event that is available for purchase. You can watch a three-minute preview of each game before purchasing. To purchase, click on "Buy Event Video."
After you purchase a film package from this page, it will immediately become available to view & download in the "My Videos" section.

Highlight Reel Editor
Through your SportsRecruits membership, you will have access to our free in-platform highlight reel editor tool. Using this video editing software, student-athletes will be able to create highlight reels or skills videos.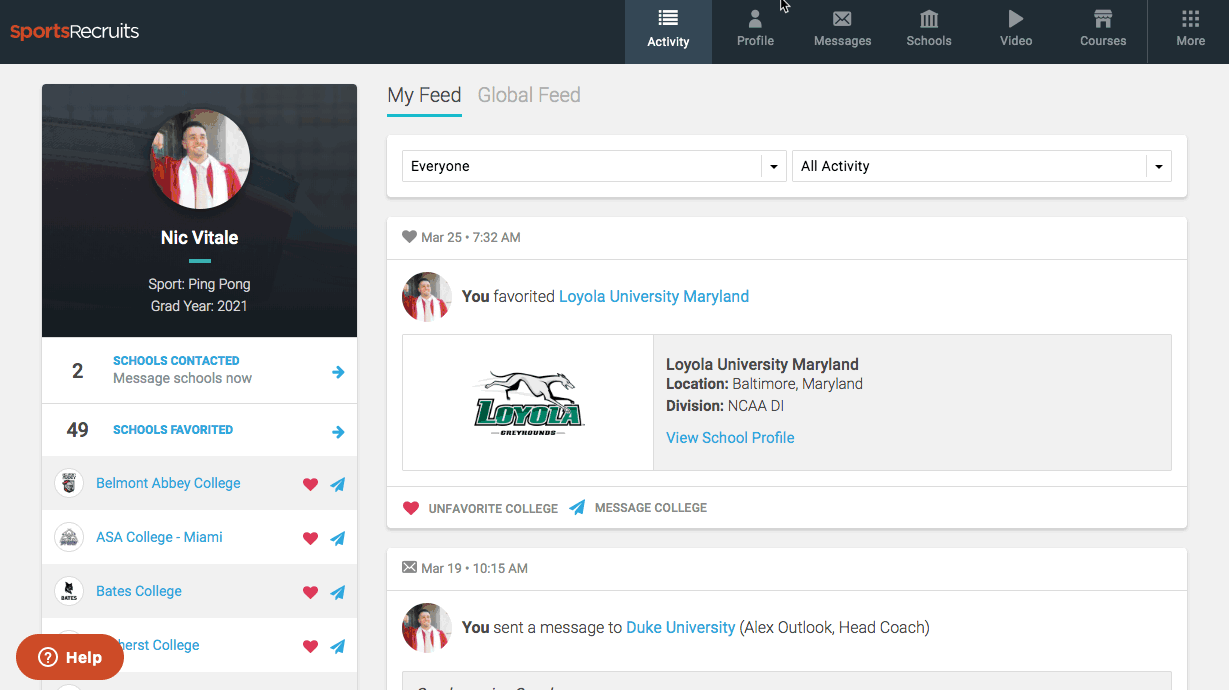 Note: The Highlight Reel Editor is only accessible when using a desktop (computer or laptop). When using a mobile or tablet device you will not be able to access the Highlight Reel Editor video editing software.
Professional Highlight Reel Form
SportsRecruits can help you professionalize your highlight reel! We have an in-house production team that specializes in building highlight reels. We'll add a title card, isolation effects, smooth transitions, and music if you'd like! On the left-hand menu, there is an option to navigate to our Professional Reel Form.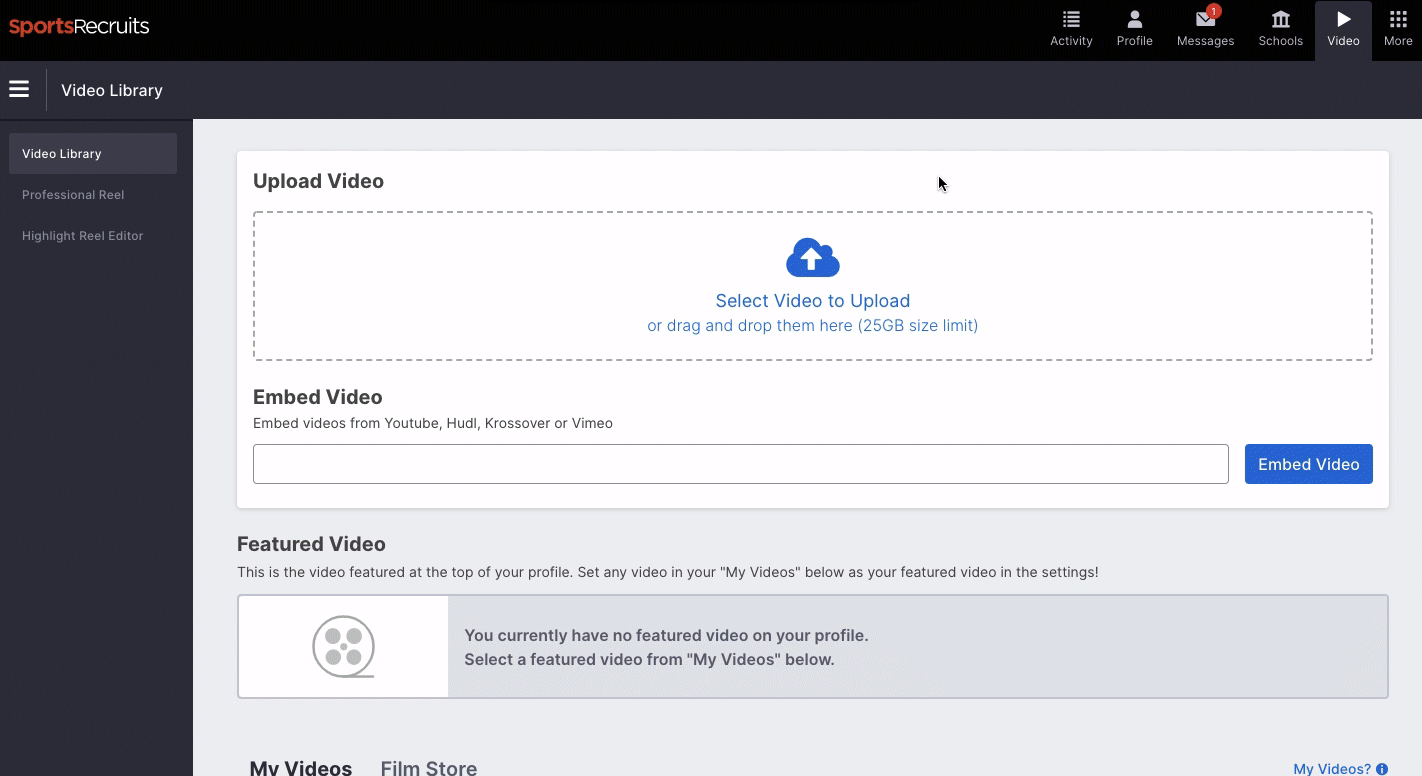 SportsRecruits users have the ability to purchase a highlight reel credit to take full advantage of our professional video editing services to make a highlight reel or a skills video. Filling out the reel form is one of the first steps in our highlight reel process. To learn more about making highlight reels with SportsRecruits see our help article- Steps to Build My Highlight Reel
If you are interested in seeing some of the videos that our team has edited in the past or are looking to purchase a video, click here!
Additional Resources Regarding Video on SportsRecruits
There are a variety of ways for users to get their video uploaded into the "My Videos" section of the platform. Please refer to the below articles for more information.
If you would like to check out some of the college recruiting videos and highlight tapes that we have created, please refer to our featured videos page.
Why SportsRecruits?
The SportsRecruits platform is a recruiting website that provides prospective student-athletes with an opportunity to market themselves to college coaches. Every user has the ability to upload unlimited amounts of highlight videos and will be notified immediately when a college coach views their videos!
Interested in SportsRecruits? Get Started Here!