Get notified immediately via text and email when coaches view your profile, video, or download your transcripts! You can determine which emails or phone numbers receive immediate notifications about particular activity by adjusting the settings.
Each individual who has access to a student-athlete's SportsRecruits profile can customize how they are notified about account activity. The way in which you are alerted about the activity can be unique for each type of activity as well. You may prefer to receive an email when you get responses after emailing college coaches, and a text when you receive a coach view of your profile.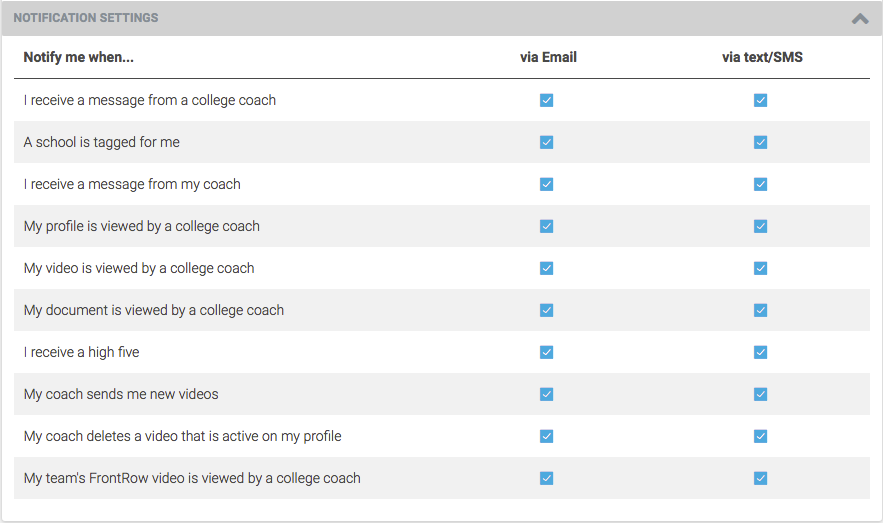 For each type of activity, you can choose to be notified via email, text message, both, or neither. To update your notification settings, follow the steps below:
On your activity feed, navigate to the toolbar at the top of your screen and click on the tab labeled "Profile"

Then, click on "Edit"

Click on the "My Family" tab

Make sure that you update the settings for both the student-athlete and the guardian.

The "Athlete" tab will allow you to set notifications for student-athlete email and text messages

Enter the student-athlete's phone number in the "mobile number" text box if the student-athlete would like text message alerts.

Make sure to "Save Changes"

The "Parent" tab allows parents or guardians, who have emails on the account to personalize their notification settings.

Enter the parent's phone number in the "Text message mobile number" text box if the parent would like text message alerts.

Make sure to "Save Changes" before leaving this page

Click the gray bar labeled "Notification Settings" to change which types of notifications are sent to each user on the platform.

Use the checkboxes in each column to indicate how you wish to be notified about each type of activity.
*By default, your account will have all of the checkboxes selected, and you will receive all notifications. If you'd no longer like to receive notifications, simply uncheck the boxes.
To learn how to update your contact information, check out our help article here!
What is SportsRecruits?
The SportsRecruits platform makes college recruiting simple. The one thing that is always lacking during the recruiting process is transparency!
Student-athletes will be notified which college coaches view their transcripts, highlight reels, test scores, and any other athletic and academic information found on their recruiting profile. These notifications can be an indicator of which colleges have mutual interest and could be a good fit.
This college recruiting website helps you consolidate every aspect of your recruiting process in one place. Get started now!