If you have staff members that are unable to login to their accounts and are getting an error message that SportsRecruits "could not process their request," the reason for this is because they were not assigned to any teams.
If you did not assign them purposefully to avoid their names showing up as the point of contact on your student-athlete's profiles, you can fix this! You can still assign the coaches to their teams so they have access to their student-athletes recruiting information.
Recommendation Requests
When a coach requests a recommendation about a student-athlete, that request is sent to any of the staff members listed on the student-athlete's profile under the organization team information.
If a staff member is assigned to a team, they have access to all of the student-athlete profiles on that team. As an administrator, you can also determine whether or not these staff members show up as contacts for college coaches on the student-athlete profiles.
Setting the Profile Visibility for Staff
There is a setting for each staff member called "Profile Visibility". This setting allows you to set your profile to "Private," so that the coach will not show up as a contact on the student-athlete profiles. However, the staff can still interact with the player profiles.
To fix this, just log in to your account and head to the "Staff" section of the "Club" tab. Click the "settings" button next to the staff member. Select the "Edit staff" option. Then, select "Hidden" on the profile visibility toggle. To finalize these changes, hit "Save."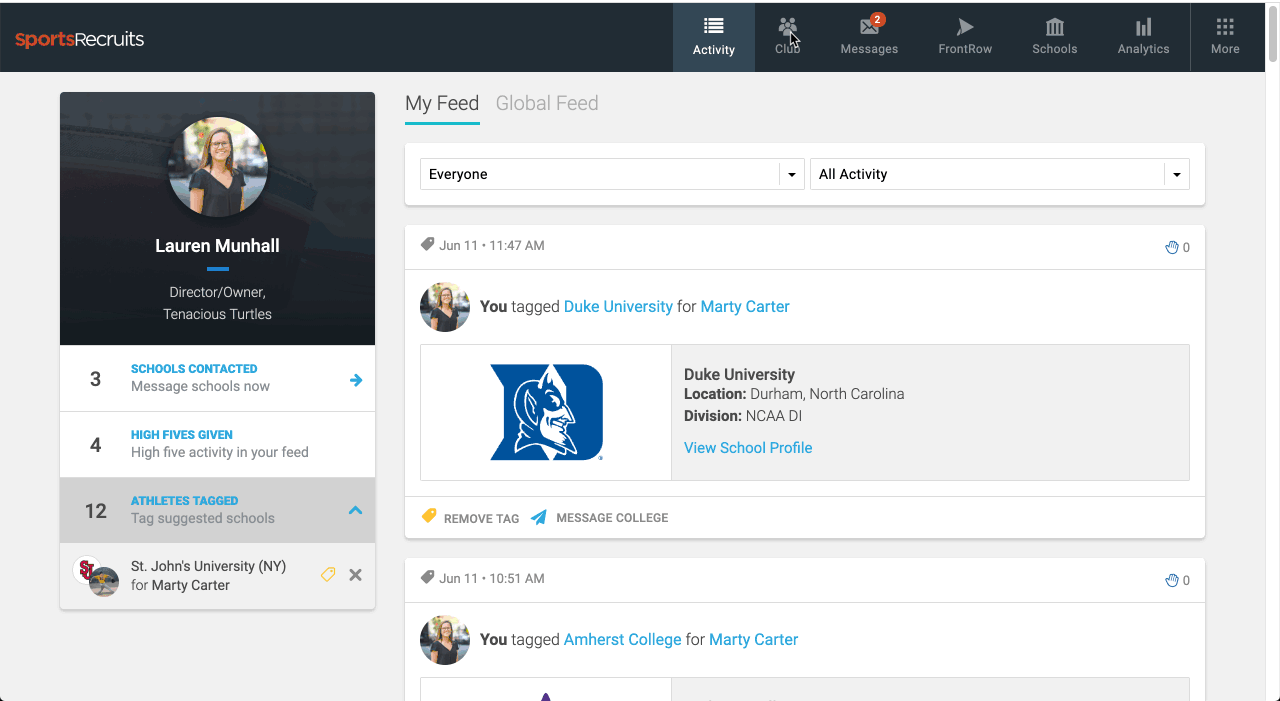 If the staff member is set to private, their name and contact information will not appear on student-athlete profiles and that staff member will NOT receive recommendation requests from college coaches.  
*NOTE: Only directors & administrators have the ability to alter this setting! If you do not have access to this setting, reach out to the administrators of your organization's account.
What is SportsRecruits?
SportsRecruits is a platform that keeps the college recruiting process organized for your high school student-athletes interested in playing college sports! Through our club management platform, you will be able to see the college athletic programs that are on your players' lists, which college coaches they've reached out to and which of those recruiting coaches have viewed their profile or highlight video.
Our advanced college search system allows you to sift through all of the college programs out there in your respective sport, giving you all of the information on that college or university–from the current coaches on staff to the financial aid or college scholarships they offer.
To get your organization signed up today, click here!