Having video available for college coaches to evaluate student-athletes is essential in the recruiting process. Event film is now readily available for student-athletes with an IMLCARecruits Pro account and can easily be shared with college coaches directly through the platform.
The IMLCARecruits Pro Account includes free access to stream raw game footage from all IMLCA-sanctioned events, making event film more
affordable for student-athletes, and more accessible by college coaches. After an event, the film will be automatically added to the Video Library section of the student-athlete's IMLCARecruits account.
How do I access the film?
Once event film is made available from a participating event, it will be instantly distributed to your IMLCARecruits profile. The "event" film will drop into your "My Video" section of your Video Library. Please allow up to 14 days following an event for the film to be fully processed and distributed to your account.
IMLCARecruits Athletes with a Pro Account
Student-athletes must have an active IMLCARecruits Pro Account, either as an individual or through their club organization, in order to watch or use game film. If you have a Pro Account on IMLCARecruits, the film will be made fully available in the "My Videos" section of your profile.
To access the film:
Sign into your student-athlete IMLCARecruits account

Navigate to the "Videos" tab

Game film will be posted to the "My Videos" section
Event videos marked "Event Premium" are those that are included at no additional cost with an IMLCARecruits Pro Account.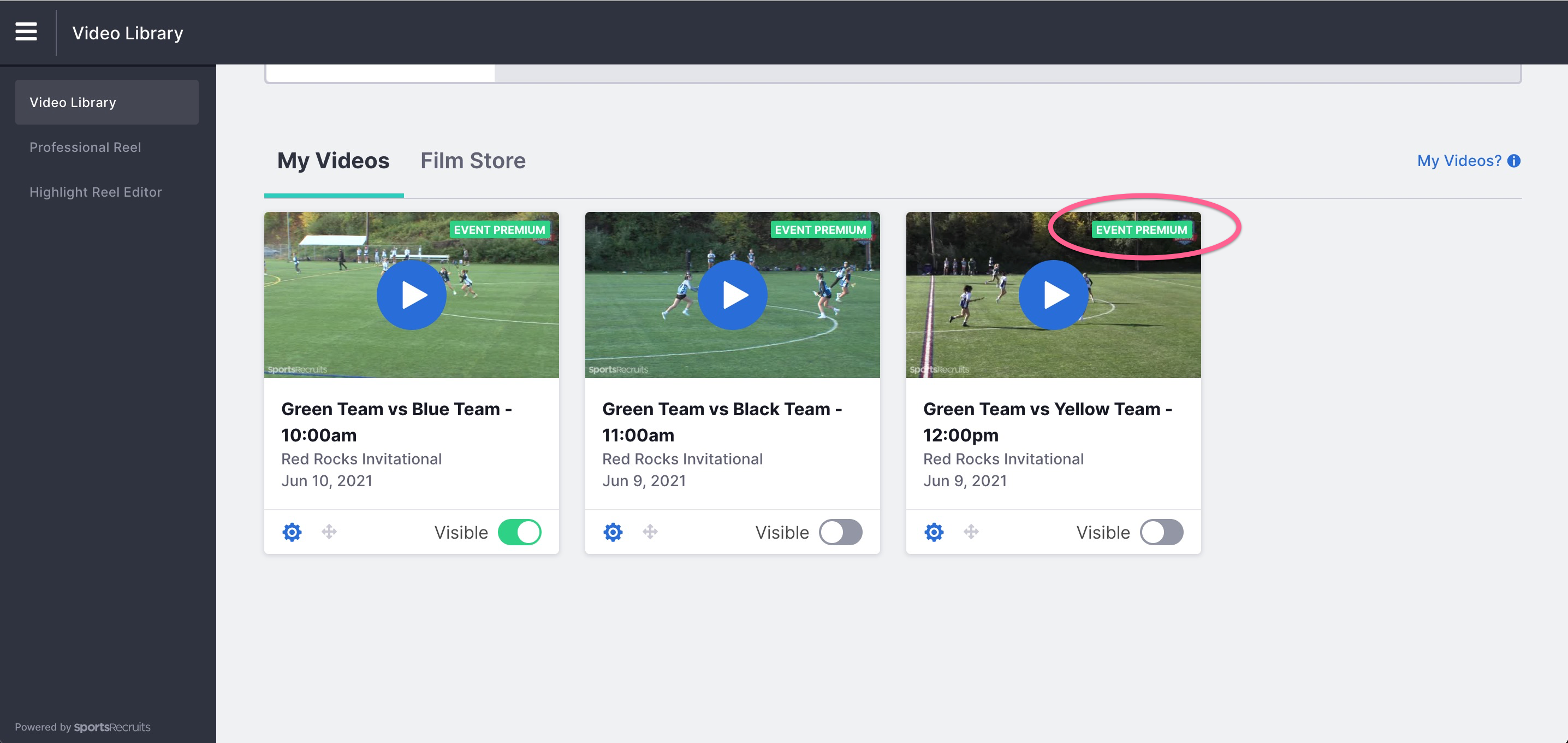 Free Account Users
If you do not have an IMLCARecruits Pro Account, the event video will still appear in your "My Videos" tab of your profile. However, the film will be locked. You will be able to watch a 3-minute preview of each game.
In order to gain access to the full game videos, follow the prompts to upgrade the account. Once you do, all games flagged as "Event Premium" in the top right hand corner of the video thumbnail will be unlocked immediately.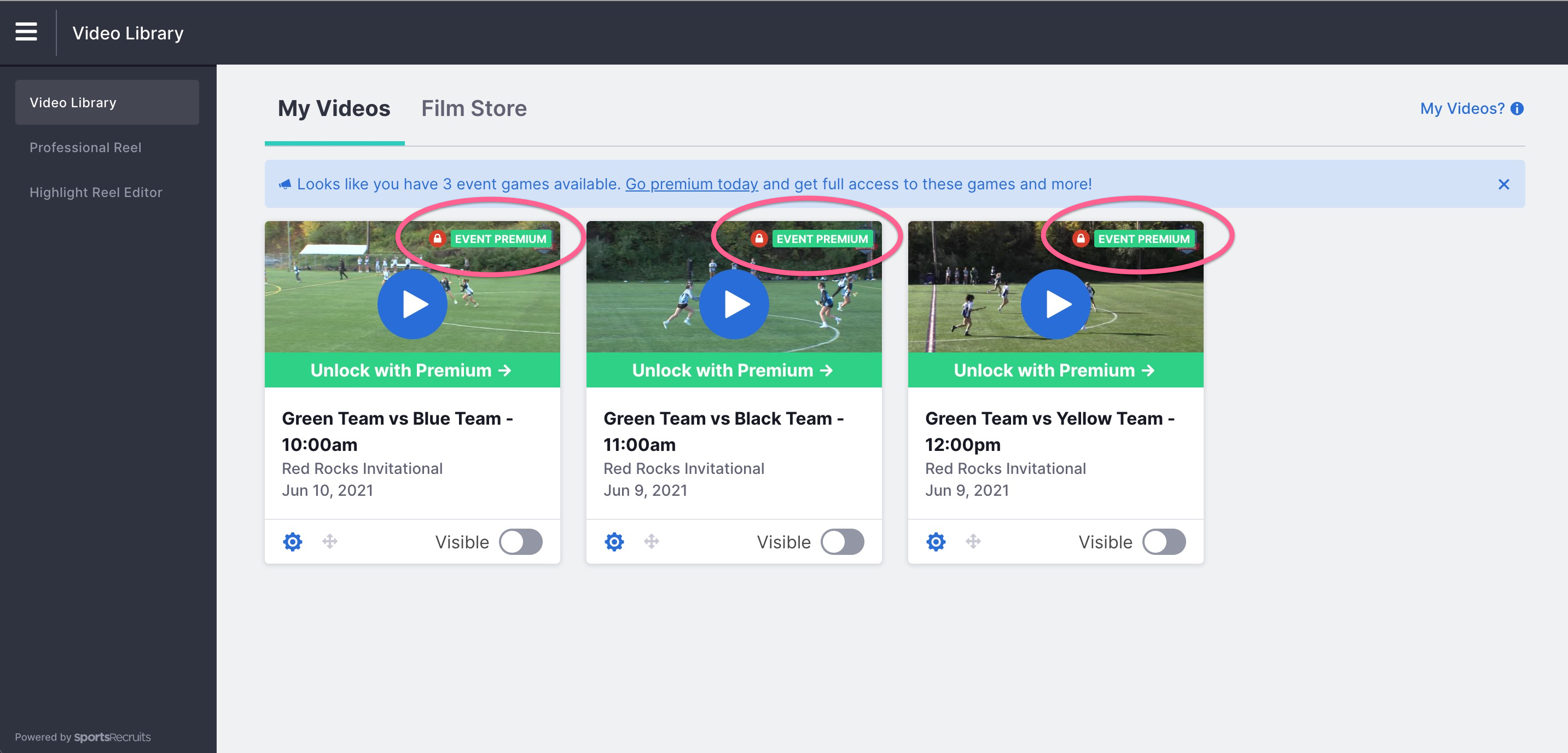 Which film will student-athletes have access to?
Click here for a complete list of individual events for which you can stream game film for free with your IMLCARecruits Pro Account. Student-athletes will have access to all individual games from these events that their team competed in.
How can the film be used?
Event game film provided through your IMLCARecruits subscription can be:
Published directly to your profile.

Used to create clips in the Highlight Reel Creator.

Used to create clips for your professional highlight reel built by our post-production team.
Film enabled via IMLCARecruits paid plans is not available for direct download. If you cancel your IMLCARecruits subscription, any film from this library will no longer be visible on your profile or in the highlight reels created with the Highlight Reel Creator.
Film Refund Policy: Film vendors will make every effort to ensure event film coverage and quality. In the event of missed games or quality issues that may occur, refunds for subscriptions will not be provided.
How can student-athletes access film that is not included for free with their IMLCARecruits Pro Account?
Only select event film is available to stream for free with an IMLCARecruits Pro Account. There may be additional event film packages available for purchase in the "Film Store" tab of your IMLCARecruits profile. To access additional film that is available to purchase please follow the steps below.
Sign into your student-athlete IMLCARecruits account

Navigate to the Video tab

Navigate to the "Video Store" section

Preview & purchase game film directly on this page
After purchasing an event film package, the video will immediately be made available in your Video Library. Contrary to the free IMLCARecruits game film, the purchased game film is available for download. This video like the free "event" film can also be used in the highlight reel editor and in professional highlight reels produced by our in-house editing team. To learn more about the process and Professional Reel access that comes with your pro-account, click here.