Event film is an essential tool in the recruiting process. IWLCARecruits makes event film more accessible by college coaches than ever before. The IWLCARecruits platform is powered by EventBeacon, which combines all of the player data from IWLCARecruits with team rosters, game schedules, and game video from EventBeacon. College coaches can stream thousands of games on demand via EventBeacon On Demand.
What is EventBeacon On Demand?
EventBeacon On Demand is a virtual evaluation tool for college coaches to watch game film after events alongside team rosters. All game footage filmed at events powered by the EventBeacon App are posted to this platform for coaches to stream at no cost. All film included in the IWLCARecruits membership, and more, will be made available to college coaches via EventBeacon On Demand.
Using EventBeacon On Demand, college coaches are able to:
Watch full, raw game footage from recruiting events filmed across the country

Access to rosters of student-athletes playing in each game side-by-side with the game film

Access to full student-athlete profiles with academic, athletic, and contact information for each athlete

Search for all games across events that contain a particular team of interest

Search for all games across events that contain a particular student-athlete of interest

Have full video control, 2x speed, fast forward, rewind, pause, etc.

Take advantage of a seamless evaluation experience with the EventBeacon App
How do coaches access the film?
To access EventBeacon On Demand, college coaches must sign into IWLCARecruits and navigate to the EventBeacon On Demand tab in the top right-hand corner of your screen.
If you already don't have a password set on IWLCARecruits, just click here and input your .edu email. You will receive an email right away to set your password. You can use this email/password for both IWLCARecruits and EventBeacon.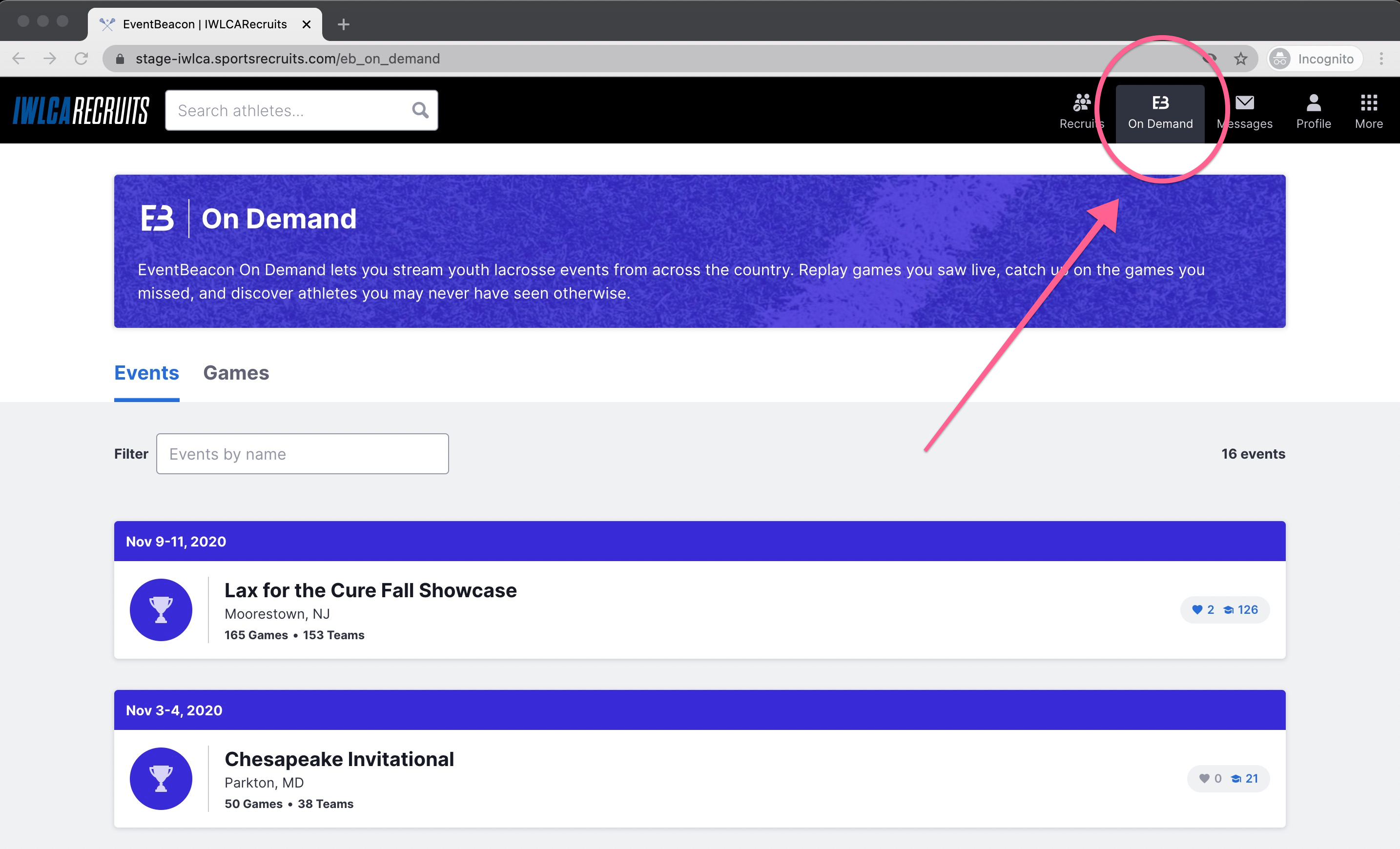 Are IWLCARecruits and EventBeacon On Demand free to use for college coaches?
Both the IWLCARecruits platform and the EventBeacon tools are 100% free of cost to all college coaches.