As a college coach, when you log into SportsRecruits proactively, the first page you are brought to is the Discover feed. The Discover feed exists as a place for any college coach to look through the entire database of student-athletes within their sport to discover prospective student-athletes to recruit.
The Discover feed offers college coaches two separate experiences - Explore and My Needs:
The

'Explore' Feed

contains a database of all the prospective student-athletes within your sport along with various filters to help your search.

The

'My Needs' Feed

is a place for college coaches to evaluate athletes that seem to fit their program's specific recruiting needs for the upcoming class years. In order to see student-athletes within the 'My Needs' Feed, your program must create and publish needs by defining positions and any other relevant academic or athletic criteria. Once a need is published, the feed will show only the athletes that meet the defined criteria and will be continuously updated as new athletes match. Learn more about creating and editing your Program Needs.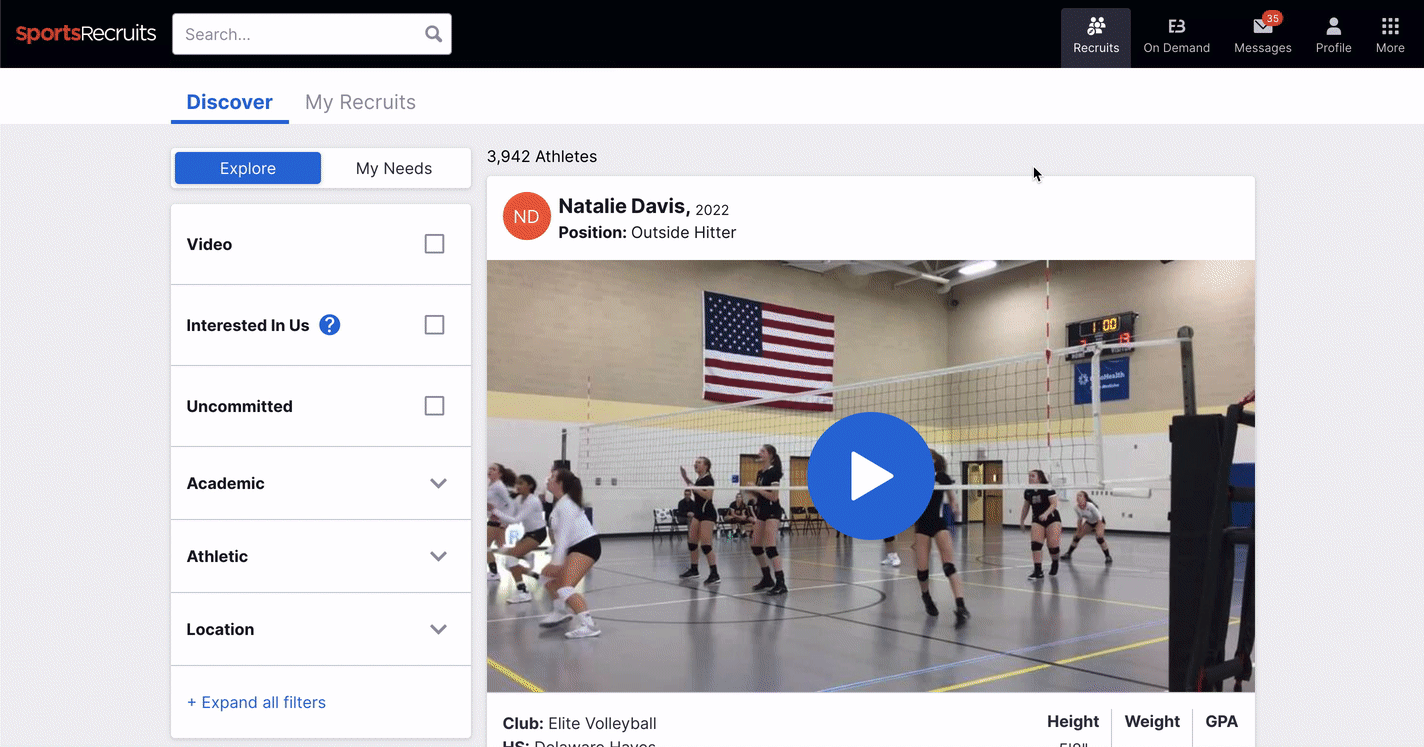 On the lefthand side of your Explore Feed, you will see a number of different categories, by which you can filter through the student-athletes within your sport. Below are some of the criteria that you can filter through to find student-athletes that meet your needs:
Interested in your Program, meaning these student-athletes have personally indicated that your school is on their list of prospective places to play at the next level
Video, only see the student-athletes that have uploaded video onto their SportsRecruits profile
Academic, filter by academic stature and graduation year
Athletic, filter by position, height and weight
Location, choose between searching for student-athletes a certain distance from your college or university, by state or by region of the United States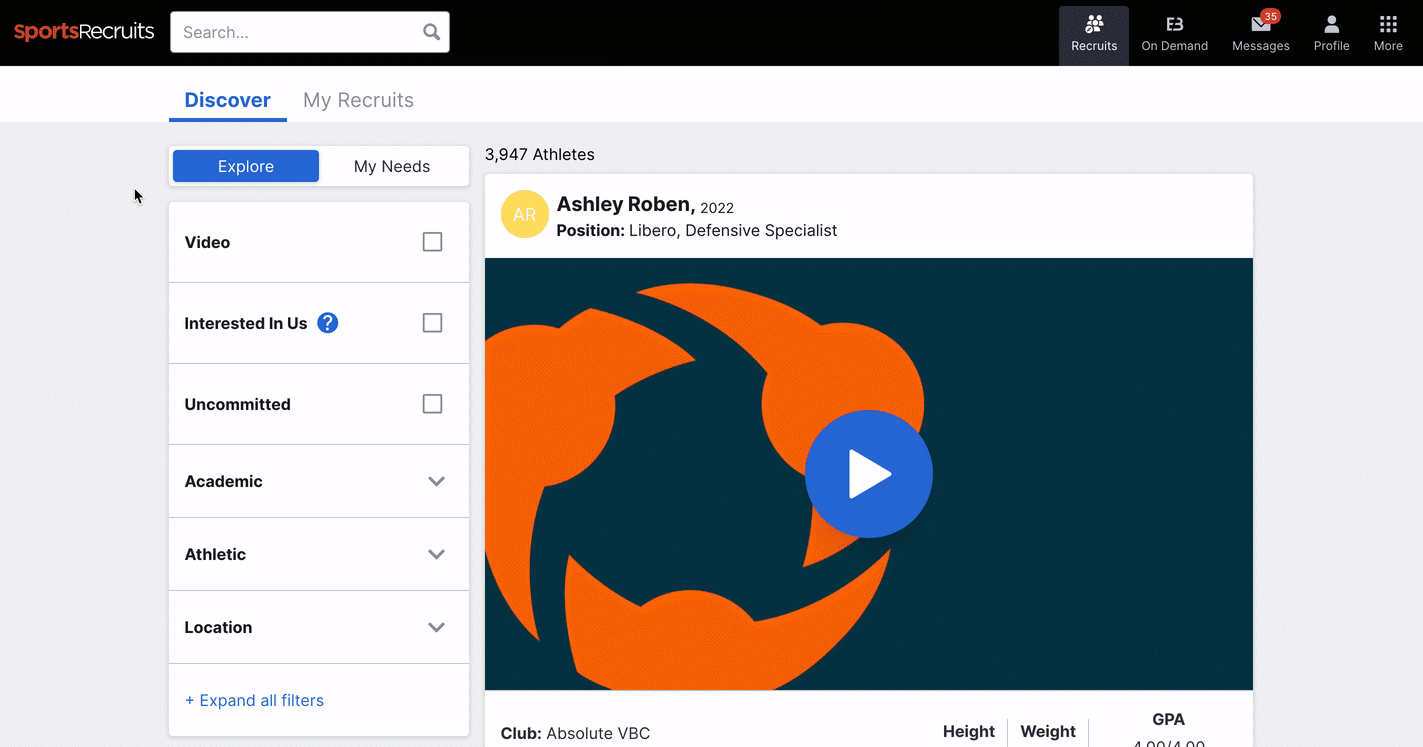 In both your Explore and Needs feeds, each student-athlete will have a title card containing their essential recruiting information. This means that, directly from the feed, you will be able to see the following information:
Name

Position

Year of Graduation

Height and Weight

GPA

Current Club and High School Teams

Video (If Available)
If a student-athlete has video on their profile, you will be able to click play on that video and watch it directly from the feed you're in.
To find more information on a specific student-athlete, you can click the "View Profile" button in the bottom right-hand corner of their title card. Within their profile, student-athletes are able to upload unlimited video, add transcripts, input test scores, and more. When a college coach views a student-athlete's profile, if that student-athlete has a SportsRecruits Pro account, they will be notified that someone from that college program has viewed their profile.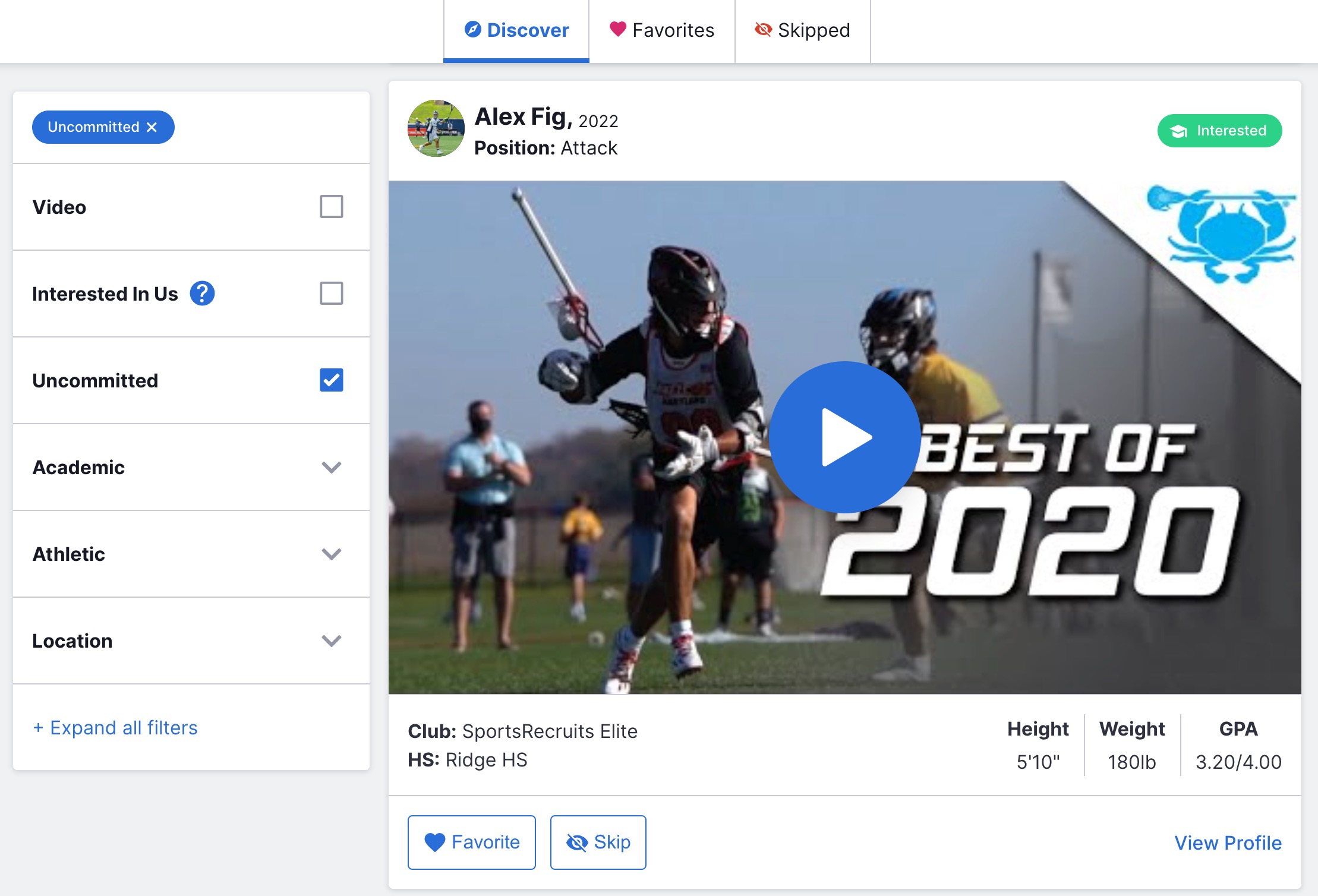 Once you find a student-athlete who you are interested in pursuing, you can add them to 'My Recruits' by Favoriting that student-athlete. Conversely, if there is a student-athlete who you are not interested in, you can remove them from your feeds by choosing Skip. The following article goes more in depth about the 'My Recruits' section: Favorite or Skip Prospective Student-Athletes as a College Coach.
The Discover Feed also lets you sift through club organizations and high schools in the sport that you coach. When the club organization or high school appears in the search results, you will be able to see:
The club organization/high school location

The number of athletes within the club organization/high school

The number of teams within the club organization/high school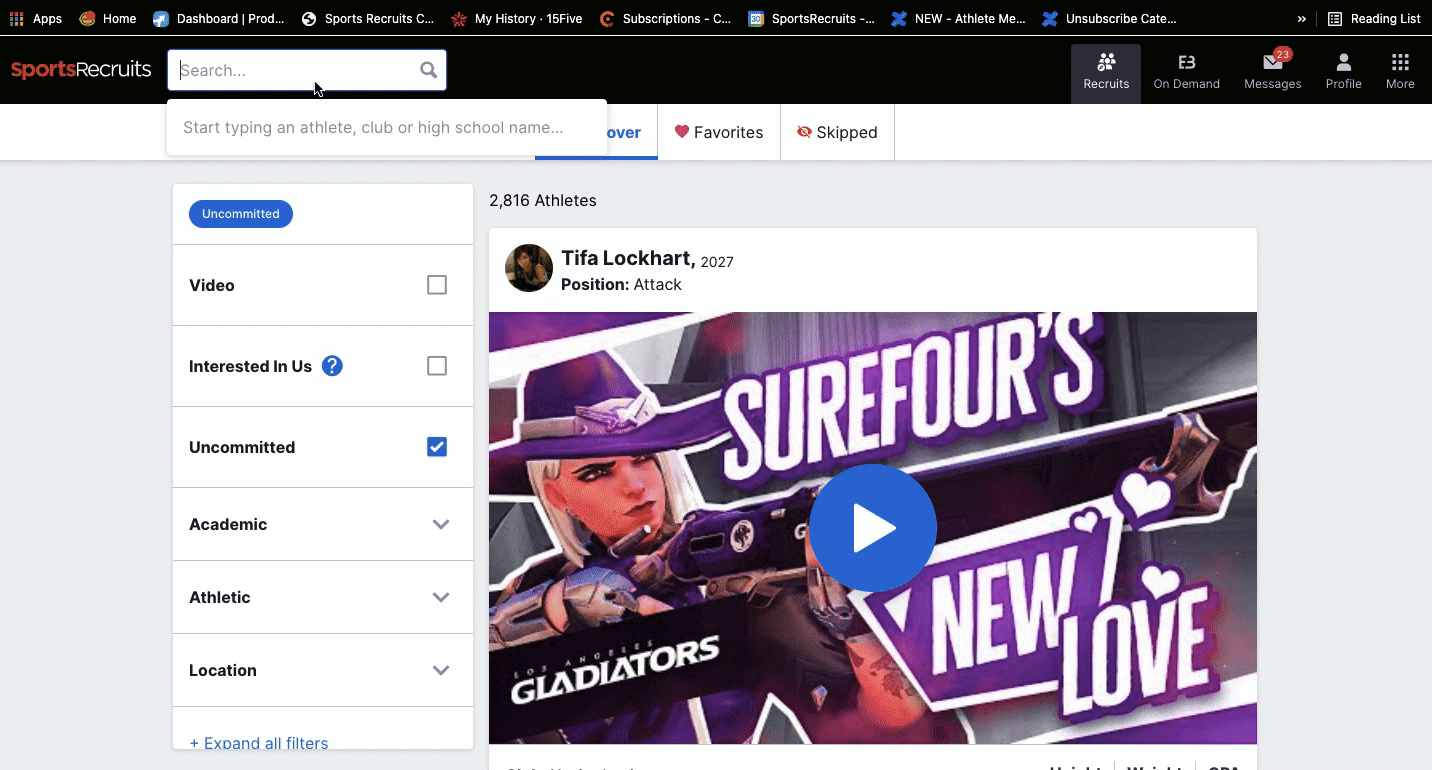 To find more information on a specific club organization/high school, click the name that appears in the search dropdown and you will be taken to the club organization/high school storefront page. Within the storefront, you will be able to access the club organization/high school athletes, videos, events, and more!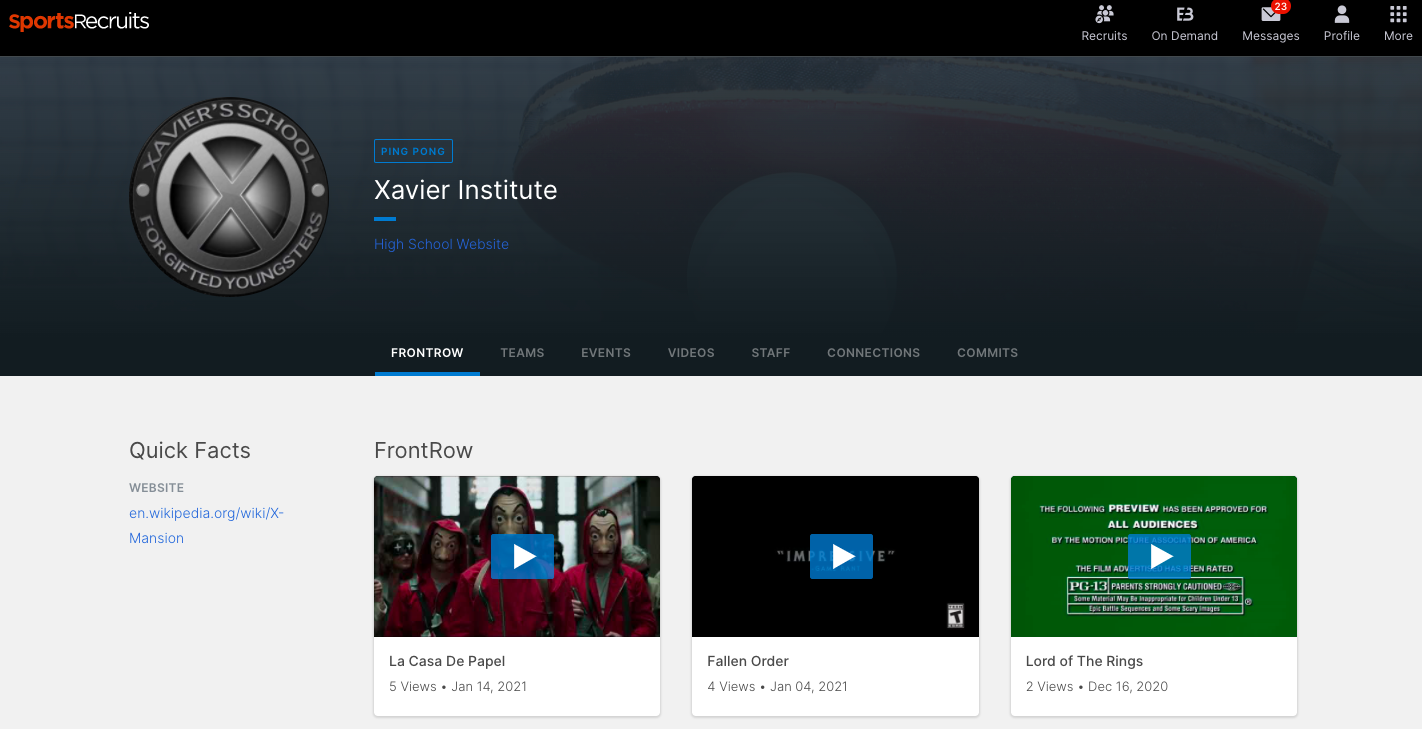 Are you a current college coach that needs help accessing your account? Visit the College Coach Login Page to be sent a link to get into your account, or you can send us an email at help@sportsrecruits.com and our team will get you settled!
To learn more about how to utilize the Favorite and Skip feature that you will see in your Discover Feed, check out the following article "How to Favorite or Skip Student-Athletes as a College Coach".
To learn more about how to search for student-athletes using specific filters, check out our help article, "Searching For Student-Athletes as a College Coach".