The National Field Hockey Coaches Association (NFHCA) has partnered with SportsRecruits to create a more accessible, simpler-than-ever recruiting process. The goal is to ensure that student-athletes, parents, club/high school staff, and college coaches have the best tools and resources at their disposal.
Out of this partnership, comes the NFHCARecruits platform! This platform includes all of the incredible technology that powers SportsRecruits, plus more. Your student-athletes can maintain their NFHCARecruits profiles, giving you complete transparency into who they are reaching out to, which Field Hockey College Coaches are viewing their profiles, and allowing you to provide real-time feedback to their favorites lists. NFHCARecruits also provides additional tools for college coaches to recruit, heightened exposure for your organization, and increased access to event video!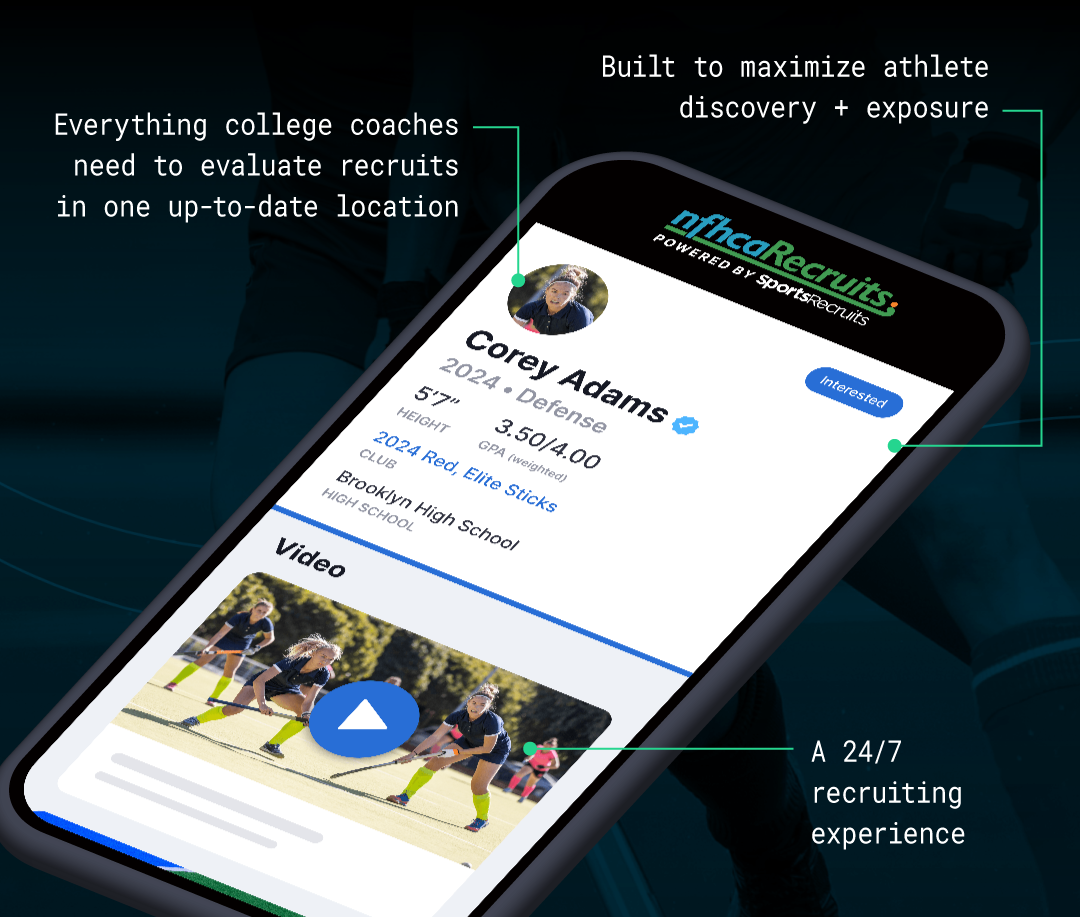 NFHCARecruits profiles will also power the coaches books at all NFHCA and 3Step operated field hockey events. This means that college coaches have access to your athletes' up-to-date profiles before, during, and after events. Film from these recruiting events will also be provided to college coaches completely free. Using NFHCARecruits, college coaches will be able to view event rosters side-by-side with this event game film to better evaluate your student-athletes.
Why NFHCARecruits?
Through NFHCARecruits field hockey student-athletes are able to navigate the recruiting process with exceptional ease. NFHCARecruits will be the sole software provider through which the NFHCA powers their events, finds recruits, and watches event film. Meanwhile, student-athletes are able to host all of their academic and athletic information as well as unlimited video for college coaches to evaluate. NFHCARecruits makes connecting college coaches and prospective student-athletes as effortless as possible!

Looking to get started or log in? Check it out here!