For student-athletes in an integrated club, club staff members are able to view everything on your profile that is made available to college coaches. This includes your athletic, academic, and essential information. Club staff members also have access to some additional information that they can use to support you in your recruiting process. You should think of your SportsRecruits profile as your recruiting resume. Your club coaches and staff can help you put your best foot forward by viewing your profile, engaging with college coaches, and providing feedback.
What Can Club Staff See?
The club administrative staff activity feed can be sorted by the following categories: "Everyone, My Activity, Staff, Athlete, Colleges." Club staff can choose to view all of their organization's activity on the platform, or narrow down their view to focus on either athletes, staff, or college coach interactions with their organization.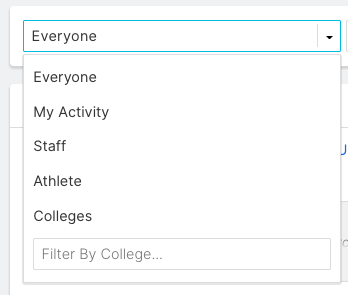 Once they have chosen the category, they can also choose what type of activity they wish to view. This includes "Messages," "Views," "Commitments," "Favorites," and "Tags."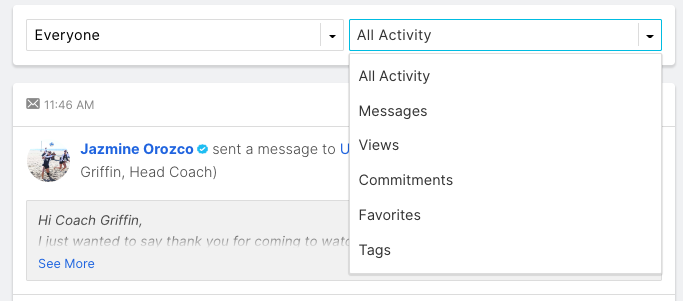 You can see the version of your profile that club staff members can see by:
Logging in to your SportsRecruits profile

Clicking the "Profile" tab in the top right corner
Selecting "Preview" on the left sidebar of your screen
This preview shows what your profile looks like to college coaches and club staff alike, including your about me, contact information, and video. Anything that is visible to college coaches can also be seen by club staff.
In addition, club staff can see your list of favorite schools. While the "Favorites" list is hidden from college coaches, it is fully visible to members of your club's staff. When you favorite a school, this action appears on the club staff activity feed, as shown below. As you can see, your club staff can then "High Five" you, tag the school (indicating they agree this is a strong fit), or send a message to the college coaches to advocate on your behalf.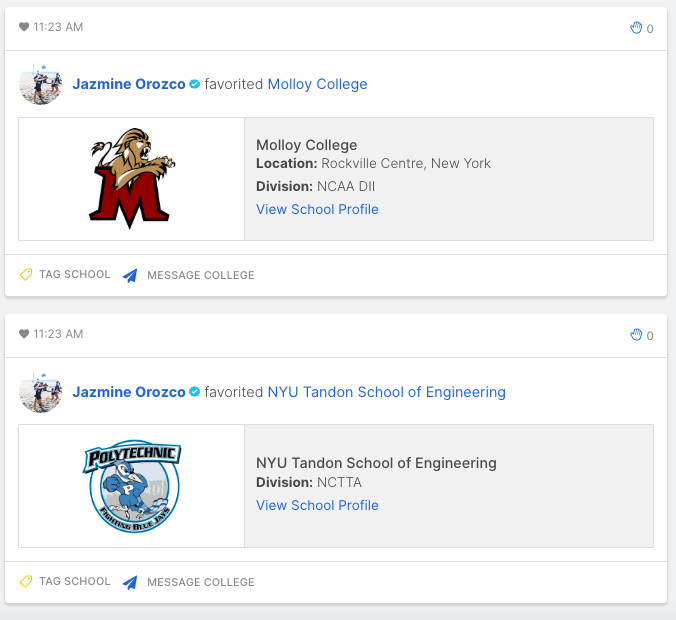 Club staff members can also view your messages - both those sent to college coaches and those received. Similar to when you add a school to your favorites list, messages sent and received appear on the activity feed. Club staff can then "High Five" you to celebrate your progress, tag the school to your favorites list, or send a follow-up to the college coaches to advocate for you.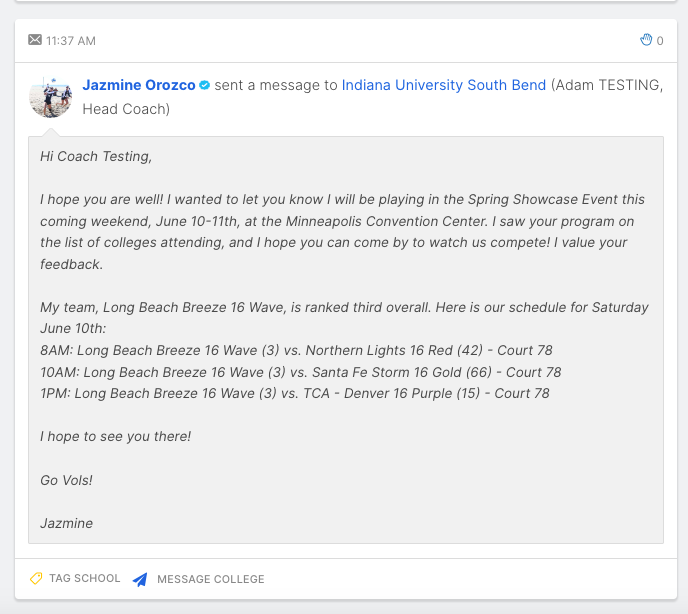 How does club staff access support my recruiting process?
At SportsRecruits, we believe in the power of leaning on your advocates to support you in your recruiting process. Club staff and coaches are often some of the strongest advocates you will encounter along the way. By providing club staff with access to your profile, as described above, we equip them with the tools they need to:
Encourage you to target and pursue schools that would be a strong fit athletically

Proactively reach out to colleges on your behalf

Follow up with college coaches as a reference

Provide feedback on your messages to college coaches, to increase their effectiveness

Share insight into how to improve your student-athlete profile
When would club staff members need to log in as an athlete?
Club staff members also have the ability to log in as an athlete, when needed. This is extremely helpful in several circumstances, including when: jersey numbers need to be changed or updated last minute before tournaments, athletic information needs to be adjusted for event rosters, or an athlete gets locked out of their account. While the SportsRecruits team is available to support during our regular business hours, club staff can easily sign in for them and make these changes at any time.
What i

s SportsRecruits?
SportsRecruits is a platform for high school student-athletes designed to help with the recruiting process. If you are interested in playing athletically at the collegiate level, we give you the tools and resources necessary to be seen by college coaches. Utilizing our platform gives you total transparency when a college coach looks at your profile.
Your profile is home to your academic and athletic stats, test scores, highlight videos, and much more for college coaches to see. Gone are the days of searching for college coaches' email addresses because our messaging system has all the up-to-date contact information and notifies you when a college coach messages you and looks at your profile!
Try SportsRecruits today by creating a free profile here!